Could Tramway To Choquequirao Save Nearby Machu Picchu From Crumbling Amid Growing Crowds?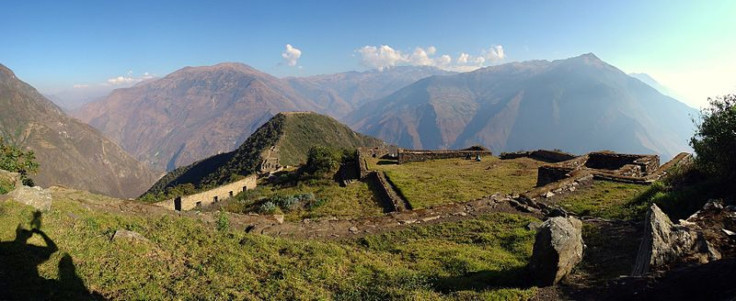 The ancient Incan citadel of Machu Picchu is Peru's most popular tourist attraction and a major foreign exchange earner for the South American country, but many conservationists believe the Unesco World Heritage site receives far more visitors than its crumbling structures can handle.
Currently, officials allow some 2,500 visitors each day, and most make the trek to the 8,200-foot-high wonder either by foot or train from the town of Cusco, the former capital of the Inca Empire. Visitor numbers have grown steadily by about 6 percent each year, and, with each footstep, conservationists say the citadel has slowly eroded.
In 2008, a team from Unesco's World Heritage Center said Machu Picchu had "urgent problems with deforestation, the risk of landslides, uncontrolled urban development and illegal access to the sanctuary." The agency reiterated these concerns again in May 2012. The "Lost City of the Incas," it said, has become "a victim of its own success."
Now, Peru has a plan to divert traffic away from Machu Picchu to its less famous "sister city" of Choquequirao. The mountaintop ruins have long been called the "cradle of gold," their name in the local Quechua language, having once belonged to Incan royalty.
Choquequirao is believed to be the last refuge of Incan rulers following the defeat of Manco Inca Yupanqui by Spanish conquistadors. The site contains lavish halls and plazas similar to those of its more famous neighbor 30 miles away, yet receives dramatically fewer visitors due to its isolation.
Currently, only those willing to drive about four hours from Cusco on flood-prone roads and endure a multiday hike through the jungle can visit Choquequirao, 70 percent of which remains blanketed in vegetation. The government, however, just approved what could become Peru's first aerial tramway over the Apurimac River, which will make Choquequirao accessible in just 15 minutes from the nearest road, the Associated Press reports.
The $45 million tramway could cart as many as 400 people an hour along the 3-mile cable car to the sleepy ruins when it opens in 2015 -- a far cry from the five odd trekkers who currently visit each day. The president of the Apurimac state government said the project would help generate tourist services and investment in hotels, restaurants and other amenities in one of Peru's poorest regions.
President Ollanta Humala signed a Cable Car Program into law in May to promote the construction of 23 tramways at tourist sites throughout Peru. The tramway over the deep canyon of the Apurimac River will be the first, given the urgent need to relieve the tourist burden at Machu Picchu while maintaining a vital tourism industry in the region.
Officials claim you can expect the same stunning ruins and breathtaking mountaintop views at Choquequirao as you would at Machu Picchu.
© Copyright IBTimes 2023. All rights reserved.