COVID Hits Pregnant Women At A New Alarming Rate, Health Officials Say
COVID vaccinations among pregnant women are more urgent than ever as the rise of the Delta variant is targeting the group at a new alarming rate, increasing their need for protection.
Hospitals in Southern U.S. states are reporting a dramatic spike of critically ill pregnant women who have contracted COVID-19.
Dr. Akila Subramaniam, an associate professor at the University of Alabama's Birmingham Division of Maternal-Fetal Medicine, told NBC News that both she and her colleagues are expecting a tripling or even quadrupling of pregnant patients hospitalized with COVID.
"None of us has ever seen this magnitude of really, really sick women at one time," Subramaniam said.
Other health officials are seeing similar trends in their hospitals.
Dr. Todd Rice, director of Vanderbilt's medical intensive care unit in Nashville, told NBC that their ICU has noticed that the patient "deterioration is quicker."
"They go faster from needing a little bit of oxygen to holy [expletive], they need a lot of support," Rice said.
There are many reasons why pregnant women could have been hard hit with COVID in recent weeks, but health experts are reporting the increase in hospitalizations is mainly among the unvaccinated. According to the CDC, only about 22% of pregnant women are fully vaccinated against COVID-19.
Expecting mothers diagnosed with COVID are 40% more likely to deliver prematurely, according to a recent University of California Irvine Health study. They also have higher rates of ICU admissions, intubation, and mortality.
In Texas, a pregnant woman was just a few days away from meeting her baby when she died of COVID-19 complications on Aug. 15. At nine months pregnant, Paige Ruiz, 32, tested positive for the virus and had to go in for an emergency C-section. Her daughter made it, but Ruiz's COVID-19 complications worsened and she died before she got to hold her newborn.
"I wish I got vaccinated," Ruiz told her mother.
Her mother, Robin Zinsou, told CNN that Ruiz had not gotten vaccinated in fear that it would harm her baby.
On Aug. 11, the Centers for Disease Control and Prevention released new data regarding COVID-19 vaccination safety for pregnant people. They reported that all pregnant people or people who are thinking about becoming pregnant and those breastfeeding can safely get vaccinated.
"The vaccines are safe and effective, and it has never been more urgent to increase vaccinations as we face the highly transmissible Delta variant and see severe outcomes from COVID-19 among unvaccinated pregnant people," CDC Director Dr. Rochelle Walensky said in a statement.
The American College of Obstetricians and Gynecologists (ACOG) and the Society for Maternal-Fetal Medicine (SMFM) released a statement in late July "enthusiastically recommending vaccination" during pregnancy.
"COVID-19 vaccination is the best method to reduce maternal and fetal complications of COVID-19 infection among pregnant people," SMFM President William Grobman said in the joint statement.
As of Wednesday, the U.S. hit over 170,000 new COVID-19 cases, with more than 95,000 coronavirus patients hospitalized nationwide.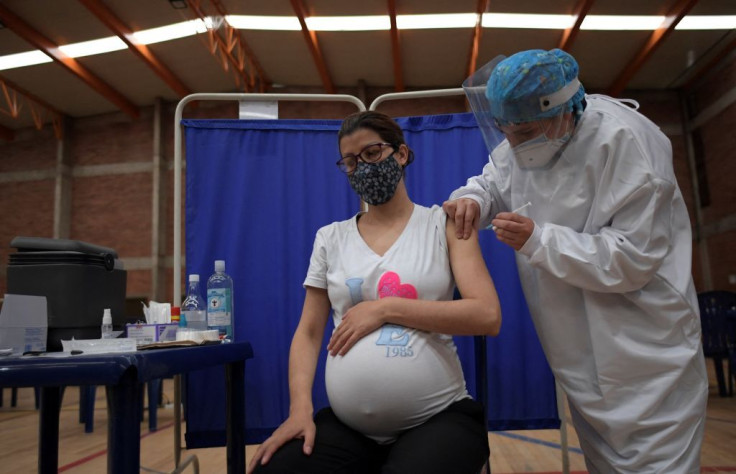 © Copyright IBTimes 2023. All rights reserved.