Creeping Tiger: India's Presence In Africa Grows, Even As China Steals The Spotlight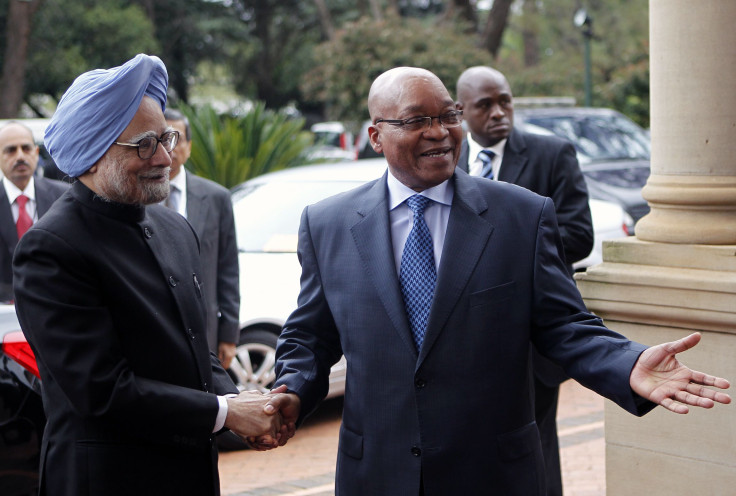 In its quest for new energy resources to meet growing demands at home, India is increasingly looking to Africa.
This week, two state-backed corporations joined forces to sign a deal for the acquisition of a 10 percent stake in a gas field in Mozambique. The $2.5 billion transaction will involve the transfer of 10 percent participating interest in the Rovuma Area 1 Offshore Block in Mozambique, or Area 1, from Videocon Mauritius to a newly incorporated entity, of which India's Oil and Natural Gas Corporation, or ONCG, will have a 60 percent stake and Oil India Limited will have 40 percent.
"Area 1 covers approximately 2.6 million acres in the deep-water Rovuma Basin offshore Mozambique and represents the largest gas discovery in offshore East Africa with estimated recoverable reserves of 35 to 65 trillion cubic feet," said the press release from ONCG. "Area 1 has the potential to become one of the world's largest LNG producing hubs with first LNG expected by 2018."
The news might be overlooked; this week, most of the international dialogue about Africa is centered on the competition between the United States and China. U.S. President Barack Obama has begun his weeklong tour of Tanzania, South Africa and Senegal, hoping to strengthen trade and investment ties -- something Beijing has been actively pursuing over the past decade.
But India -- Asia's other fast-growing economic giant -- is quietly assuming a bigger role on the African continent. The country is similar to China in that it faces many of the same resource- and energy-related problems. It is the world's fourth largest energy importer after the United States, China and Russia.
To bolster the relationship between India and Africa, Delhi officials often try to paint the partnership as one of mutual gain and respect -- sometimes with subtle digs at China, casting it as more exploitative and highlighting complaints that Chinese firms often employ their own nationals rather than hiring locals.
"We are not having the same approach as that of China," said Vice President M. Hamid Ansari last month to the Indian newspaper Business Standard. "Our approach is different. ... The Indian approach is not just to give the fish, it is to teach how to fish."
At a March forum in Durban, South Africa, Indian Prime Minister Manmohan Singh said that India is committed to African development, noting that thousands of Indians are serving U.N. peacekeeping missions in Africa, while tens of thousands of African students are pursuing studies in India.
"Sustainable economic development requires an environment of social and political stability," he said. "India actively supports African initiatives for peace and security in the continent."
For India, Africa presents a wealth of opportunities. The continent and all of its resources are located just across the Indian Ocean, a straight shot of about 2,000 miles. Those African countries that border the Indian Ocean -- especially South Africa, Mozambique and Tanzania -- have historically attracted Indian investments and trade partnerships. Diplomatic ties between India and Africa grew stronger when both were struggling to overthrow the yoke of European colonialism during the mid-20th century.
It doesn't hurt that East Africa is rich in in minerals, including gold, tantalum, aluminum and diamonds. More importantly, the region is becoming a major supplier of natural gas, a resource that India needs desperately in order to keep up with energy demands. Last year, 100 trillion cubic feet of natural gas were discovered in Mozambique -- stunning boon for a growing economy. In Tanzania, operators have discovered more than 40 trillion cubic feet of recoverable gas, and there is plenty left to explore.
In India, population growth will continue to fuel energy demands; the current count of 1.25 billion people is expected to swell to 1.45 billion by 2028, at which point India's population should exceed even China's. Already, at least one-fourth of India's citizens lack basic access to electricity according to the U.S. Energy Association. Even those communities that are connected to the grid have learned to live with recurring blackouts.
No wonder that the current extent of Indian investments in Africa is already surprisingly large. A study from Ernst & Young found that in the period from 2007 to 2012, India invested in 237 new projects on the African continent, beating China's 152. In fact, three Western countries -- the United States, the United Kingdom and France -- were the only ones to surpass India in this regard. The dollar values tell a different story; India's $27.3 billion of FDI into Africa last year was no match for China's $119.7 billion. But India's apparent eagerness to pursue new projects speaks to its quickly expanding role on the continent.
Trade is also ramping up at a breakneck pace. Bilateral exchange volume between India and African countries edged past $60 billion in 2011, exceeding expectations. Officials expect it to reach $90 billion by 2015. India is far from catching up to China's level engagement, but its role on the continent cannot be ignored, both as a resource consumer and a partner in Africa's development.
© Copyright IBTimes 2023. All rights reserved.