CRISPR-Edited Immune Cells Survive Infusion To Cancer Patients
KEY POINTS
Gene-edited cells made using CRISPR were injected into cancer patients
The manufactured cells contained three edits
A fourth modification was added using synthetic cancer T-cells
Genetically edited immune cells made using gene-editing tool CRISPR may survive or even battle cancer cells, according to new research.
New data gathered by Abramson Cancer Center, University of Pennsylvania has brought out some exciting findings – the gene-edited cells, when removed from the patients and brought back to the lab, were able to kill cancer cells. This process could take place even months after the cells were manufactured.
"This new analysis of the three patients has confirmed that the manufactured cells contained all three edits, providing proof of concept for this approach. This is the first confirmation of the ability of CRISPR/Cas9 technology to target multiple genes at the same time in humans and illustrates the potential of this technology to treat many diseases that were previously not able to be treated or cured," Dr. Carl June, Professor of immunotherapy at the University of Pennsylvania and the senior author stated in the study, which was published under a title, "CRISPR-engineered T cells in patients with refractory cancer" in the Science Magazine Thursday.
This is the first sanctioned use of multiple gene-editing of the human genome and follows initial attempts at editing cancer patients' immune cells.
The basic paradigm of the study is to create specially engineered immune cells to fight cancer cells. The team used CRISPR technology to remove three genes. Then they removed cancer T cell's natural receptors and replace them with a synthetic T receptor using a virus called the Lentivirus. This process allowed these cells to find and destroy tumors.
The researchers then collected blood from the infused patients months after the process and found that these cells were able to kill tumors.
The research team stated that they had used appropriate safeguards and federal regulatory approval steps, because of which the process took two years. They also claim that it will help improve cancer research massively.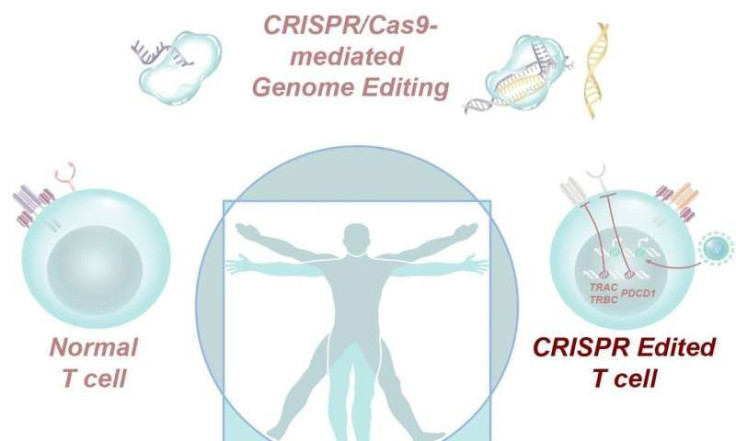 © Copyright IBTimes 2023. All rights reserved.