Critics Attack 'Disgusting' Anti-Hillary Book Cover, But The Artist Supports 'Sexy' Clinton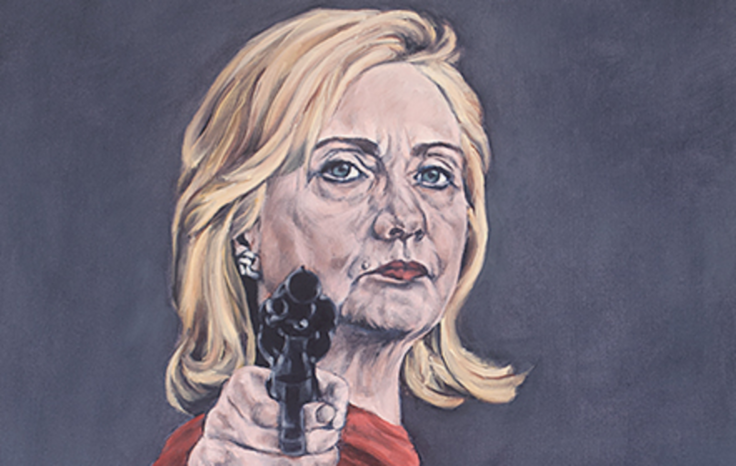 "Gross," "disgusting," "deplorable" and sexist. Those are just a few of the words being hurled at the cover of a forthcoming book by author Doug Henwood, who attacks Hillary Clinton not from the right, but from the left. The Nation's Joan Walsh, former Obama speechwriter Jon Lovett and a slew of Clinton fans howled Thursday at the debut of Henwood's cover, a jarring image of the former U.S. secretary of state in a red dress, pointing a gun at the viewer with a cold, dead-eyed stare.
"I keep hearing it's unfair to think that some of the male Clinton haters on the left might have issues with women," quipped Salon's Amanda Marcotte with a wink, after seeing the cover.
There's one wrench in that theory, however: The artist who painted the image is not only a woman, but a diehard Hillary Clinton supporter.
"I love Hillary Clinton, I support Hillary Clinton, I very much want her to be president. I will certainly vote for her," said Sarah Sole, who created the painting, in an interview with International Business Times.
Extremely Ready For Hillary
Sole, a New York artist and former mathematician, has painted dozens of images of Hillary Clinton; she says they come from "a place of love." Yet she didn't take much of an interest in the first family when Bill Clinton was president, nor did she pay much attention to Clinton when she became a U.S. senator from New York in 2000. But Sole caught the Hillary bug during the 2008 presidential election, and Clinton's defeat by Barack Obama for the Democratic Party's nomination left Sole devastated.
Sole debuted the gun painting, along with several others, last October, and ended up making the spread of Politico magazine, under the headline, "Extremely Ready for Hillary." Sole says no one accused her of painting a "disgusting" attack on the candidate at the time.
How did the same image end up on the cover of a book that is decidedly not ready for Hillary?
Sole said she met Henwood on Facebook a few years ago, the two of them appreciating each other's work: She listened to the radio show he then had on WBAI-FM in New York, got turned on to many leftist authors and thinkers, while he was fascinated by her paintings -- one, in particular.
Finally, a few months ago, Henwood approached Sole about using the gun painting for a book in the works. Sole knew his politics, but didn't hesitate. "He's not some kind of rabid misogynistic guy," she said. "He does his research; he's assured me he's going to take a very measured approach."
She had one condition: The book came out of a Harper's magazine article called "Stop Hillary," and Sole did not want such an "anti-Hillary" title splashed on top of her painting. "My Turn," which for Henwood suggested Clinton's brazen demand to take power, resonated very differently for Sole.
"I think it is her turn!" she said with a laugh.
A Place Of Love
Despite the criticisms of the cover from some liberals and former politicos, Sole said she doesn't regret lending the image.
"I think there's a context to the painting that turns it into something pulpy and sexy to me," she added. "I love it."
Why the gun? "It's hard to say why I painted her with the gun pointed at me," she said. "But I paint her from a very private place. I'm gay; it came from a libidinal place. I've come to look at Hillary as this concoction in my head. It's about the Western mindset and political power brokers."
In an election where Clinton is facing the Benghazi Select Committee, right-wing authors attacking her family's foundation and a gallery of Republican candidates who invoke her name like a plague, it's easy to forget that the Democratic front-runner has as many detractors on the left as she does on the right. (The most famous example may be the late Christopher Hitchens, who published a broadside against Bill and Hillary Clinton in his 1999 polemic, "No One Left To Lie To.")
Henwood's book, titled, "My Turn," is an exploration of Hillary's past involvement in what Henwood considers to be causes of the American right, from education reform to the dismantling of welfare to, of course, her penchant for wars in the Middle East.
For his part, Henwood says he is sensitive to charges of sexism and wants nothing to do with what he calls the "right's critique" of Hillary.
"I am concerned about that," he told IBT. "I say in the introduction that I want to have nothing to do with the right-wing attack on her. I want to be really careful and not cross a line, but I also want to be able to criticize her without being called a knuckle-dragging misogynist."
As for his choice of cover, Henwood said the painting's portrayal resonated with him as "cold and ruthless," but also brought up Clinton's hawkishness, calling to mind one recent quote she gave on the Syrian war.
"In a conflict like this," she said to the Atlantic's Jeffrey Goldberg last year, "the hard men with the guns are going to be the more likely actors in any political transition than those on the outside just talking."
It's also just a striking image, Henwood says. "The point is to be provocative and get people talking about it."
Despite their diametrically opposed feelings about Clinton, Sole said she believes her work is in good hands.
"He does do the research -- he tends to the garden of Hillary," she said. "And I think that below that, it's coming from a place of love and devotion. He doesn't despise her so much that he can't really look at her."
© Copyright IBTimes 2023. All rights reserved.
FOLLOW MORE IBT NEWS ON THE BELOW CHANNELS