Curtains For RIM? Besides IBM, Are Microsoft, Samsung, Oracle Looking?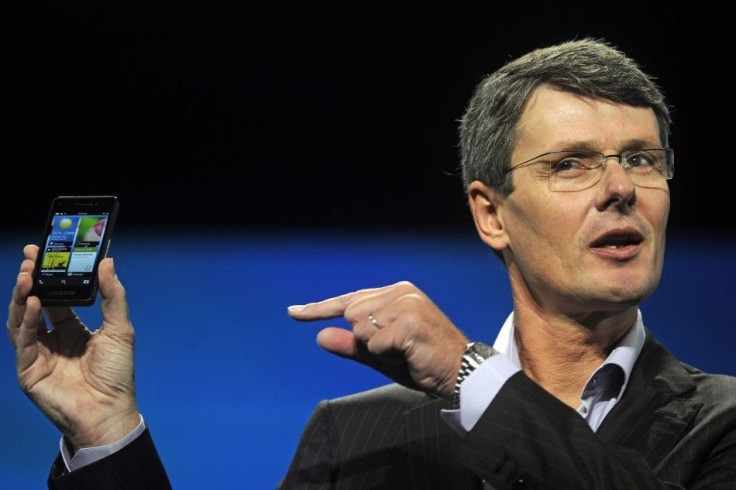 Shares of BlackBerry developer Research in Motion (Nasdaq: RIMM) soared as much as 10 percent Friday on a report that International Business Machines Corp. (NYSE: IBM) was interested in buying the enterprise side of the business, which operates the BlackBerry network.
For nearly a year, since the Waterloo, Ontario, smartphone maker first got into financial straits as it continued to lose market share to the iPhone from Apple (Nasdaq: AAPL), the world's most valuable technology company, as well as smartphones based on the Android OS from Google (Nasdaq: GOOG), the No. 1 search engine, a takeover has been mooted.
Activist shareholder Victor Alboini of Toronto's Jaguar Financial, Leon Cooperman of New York's Omega Advisers and more recently Prem Watsa of Toronto's Fairfax Financial Holdings have demanded a shake-up. Watsa, whose group owns more than 10 percent of RIM's shares, has been a RIM director since January.
New CEO Thorsten Heins, 54, who succeeded co-founders Mike Lazaridis and James Balsillie in January, has pledged to do his best to keep RIM afloat, most recently at the July 10 annual meeting. But he's also been working with investment bankers from Royal Bank of Canada (NYSE: RY) and JPMorganChase (NYSE: JPM) to obtain "strategic alternatives."
So a bid for the BlackBerry business, with its nearly 80 million customers, largely white-collar executives in developed countries, could be one solution. Alboini, of Jaguar, said Friday he would estimate its value around $9.6 billion, while analyst Peter Misek of Jefferies said the value would be much lower, around $2 billion.
Still, RIM may have to sell itself, in part or total, for two reasons: It's not making money and it's losing market share in the smartphone wars to Apple and Android models. This week, market researcher IDC estimated BlackBerry's second-quarter market share had fallen to only 4.8 percent from 12 percent a year ago.
RIM, which reported cash and investments of $2.2 billion for the first quarter ended June 2, also reported its net loss was $518 million, or 99 cents a share, reversing prior-year net income of $695 million, or $1.33 a share. Revenue declined 43 percent to $2.8 billion.
And the red ink may keep coming. Analysts surveyed by ThomsonReuters estimate RIM's full-year loss will be about $1.50 a share on revenue of only $10.18 billion, compared with fiscal 2012 net income of $1.16 billion, or $2.22 a share, on revenue of $18.4 billion for the period ended March 3.
Heins already warned the next-generation BlackBerry 10 unit won't ship until sometime in early 2013, long after Apple is expected to ship its upgrade to the iPhone 4S, new Android phones come from Google (now owner of Motorola), Samsung Electronics (Seoul: 005930) and others.
As well, Microsoft (Nasdaq: MSFT), the world's biggest software company, is scheduled to ship Windows 8, which will be loaded into new Lumia phones from Finland's Nokia Oyj (NYSE: NOK) and perhaps others.
Then there's the matter of the BlackBerry PlayBook, RIM's answer to the iPad. Sales have never taken off, with only 260,000 sold in the most recent quarter. By contrast, Apple sold 17 million iPads. Heins has declined to terimate the product so far.
A year ago, when troubles at RIM suggested changes were needed, analysts speculated a bidder like Nokia or Samsung might be interested in the company. But Nokia's continuing financial problems and Samsung's success in gaining share as the No. 1 maker of Android phones might preclude that.
The other option, mooted by Alboini repeatedly, is that an enterprise software bidder like IBM, Microsoft or Oracle (Nasdaq: ORCL), the No. 1 database developer, might be interested in the BlackBerry business and network. Also suggested: Private equity bidders such as KKR & Co. (NYSE: KKR) or TPG might want to take RIM private, especially because its employees use BlackBerrys.
But even on that front, Alboini said too many former BlackBerry users have switched to iPhones. Also, the Canadian government might oppose foreign takeover of a prized technology company especially after the collapse of former star Nortel Networks.
There are other assets at RIM, mainly its thousands of patents, including some acquired last year from Nortel in a syndicate with Apple and others. But Misek, the Jefferies analyst, believes the package as a group is only valued around $2.58 billion.
Those patents as well might tempt bids from a telephone operator like AT&T Inc. (NYSE: T), the No. 1 telecommunications carrier, or Verizon Communications (NYSE: VZ).
Still, as company fortunes fade, so may the value of its patents. A year ago, Eastman Kodak (Pink: EKDKQ) tried to auction its intellectual property thought to be valued as high as $3 billion. Now in federal bankruptcy court in New York City, an auction of those patents is scheduled for Monday. Reports said preliminary bids by Apple and Google are no higher than $300 million.
RIM shares, which jumped as much as 10 percent early Friday, closed up 5 percent at $8.29, up 49 cents or 6 percent, valuing the company at $4.34 billion.
© Copyright IBTimes 2023. All rights reserved.
FOLLOW MORE IBT NEWS ON THE BELOW CHANNELS