Dallas Cowboys News: Why Free Agent RB DeMarco Murray Doesn't Have New Contract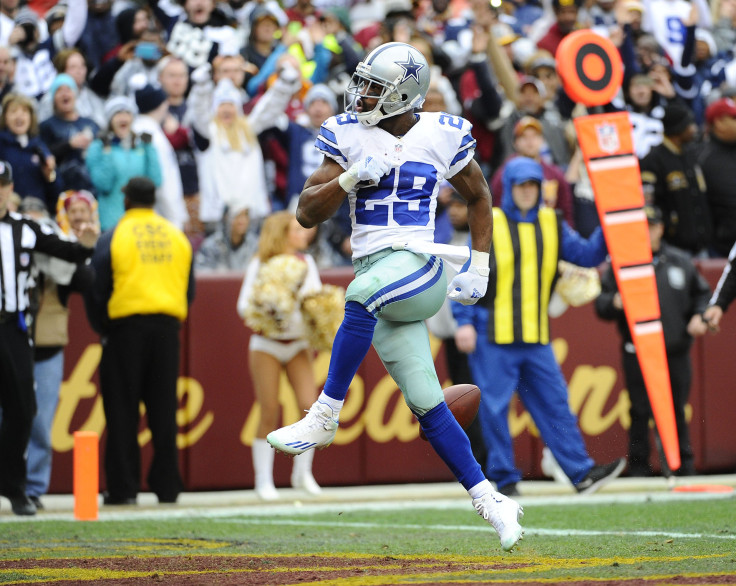 Even after leading the NFL in rushing and posting the best season of his career, running back DeMarco Murray hasn't heard from the Dallas Cowboys regarding a new contract since last week, ESPN reports. Perhaps taking the lack of contact as a personal slight, Murray has also completely wiped away any trace of the Cowboys on his Twitter account.
It's a situation that's quite the opposite of the free-agency frenzy fans have witnessed over the last few days, with players and the terms of their new exorbitant contracts leaked to the media. But there has been nothing out of Dallas regarding Murray.
As of now, Murray's status doesn't figure to change for myriad reasons.
For one, neither side can seem to agree on just what Murray is worth. Yahoo Sports reported that Murray's representatives believe other teams are willing to pay their client as much as $8 million per season
It's currently unknown what Murray and his representatives are asking for in total, but after he gained 1,845 yards and scored 13 touchdowns last season, breaking Emmitt Smith's franchise record, it's likely the 27-year-old desires a deal in the same range as the Minnesota Vikings Adrian Peterson and the Seattle Seahawks Marshawn Lynch.
Peterson, currently scheduled to make $15.4 million next season if he stays with the Vikings, signed a seven-year, $86.2 million extension with Minnesota back in 2011, with $36 million guaranteed. In that deal, Peterson makes on average of $14.3 million a season through 2017.
Even after reportedly considering retirement, Lynch firmly agreed to return to Seattle and came to terms on a three-year, $31 million extension that will pay him $12 million next season, according to ProFootballTalk.
Cowboys owner Jerry Jones has said he wants Murray to return, and Murray has said the same, with ESPN also reporting before this prolonged lack of contact between the two sides, that Murray would return to Dallas if it would match the highest offer he received on the open market.
However, Jones seems leery of overpaying any free agent, let alone Murray.
"Hopefully, I'm better today at doing what we're doing than I was 15 years ago," Jones said to the Fort Worth Star-Telegram. "It's just from the experience that we've gotten. Overpaying free-agent wise has not borne out, not just for us, but for around the league in general.
"When you go out and overpay in free agency, those usually don't have good endings."
The Star-Telegram referenced Jones and the Cowboys' most glaring instances of overpaying players, like former running back Marion Barber, and receivers Miles Austin and Roy Williams.
Murray might feel slighted, but it's not as if Dallas is giving his teammates more lucrative deals, or that other teams around the league are handing running backs mega-deals.
In order to save some cap space, and avoid a long-term deal with tons of guaranteed money, the Cowboys decided to use the franchise tag on wide receiver Dez Bryant, who was widely considered the best receiver available in free agency. That will cost Dallas $12.8 million in 2015, but they aren't locked into a longer deal loaded with guaranteed dollars and can still negotiate with Bryant.
Dallas also stopped receiver Cole Beasley from hitting restricted free agency by offering him a four-year, $13.6 million contract with $7 million in guarantees, a bargain deal most teams would like. And veteran right tackle Doug Free received a three-year, $15 million extension with only $6 million guaranteed.
Cap space could also be an issue for the Cowboys. They currently have $11.1 million in space, according to Spotrac.com, and still have several key free agents in defensive tackle Henry Melton, defensive end Anthony Spencer, and linebackers Bruce Carter and Justin Durant.
If Murray believes he can win a long game of chicken with the Cowboys, he might have to think twice. Dallas already allowed starting offensive tackle Jermey Parnell to walk and agree to a five-year, $32 million contract with the Jacksonville Jaguars.
Eventually, the Cowboys and Murray are likely to reach a deal somewhere in the middle of Peterson's and the contract Mark Ingram agreed to with the New Orleans Saints.
Ingram and the Saints reportedly agreed to a four-year, $16 million deal, and according to the Dallas Morning-News, that's a similar deal the Cowboys offered Murray before.
However, it does appear to be a possibility that Murray could join Parnell in Jacksonville. The Jaguars began free agency with $66.3 million in salary cap space, by far the highest in the league, and NFL.com's Ian Rapoport tweeted early Tuesday that the Jaguars' interest in Murray ranges from "strong to quite strong."
Rapoport went on to tweet that if Murray doesn't hear from the Cowboys by 4 p.m. ET, the time when player are allowed to officially sign contracts and the new league year begins, then the Arizona Cardinals and Tampa Bay Buccaneers could battle the Jaguars for Murray.
© Copyright IBTimes 2023. All rights reserved.