Dallas Police Shooting Update: Officers Killed During Black Lives Matter Protests, Mayor Mike Rawlings Calls It 'Worst Nightmare'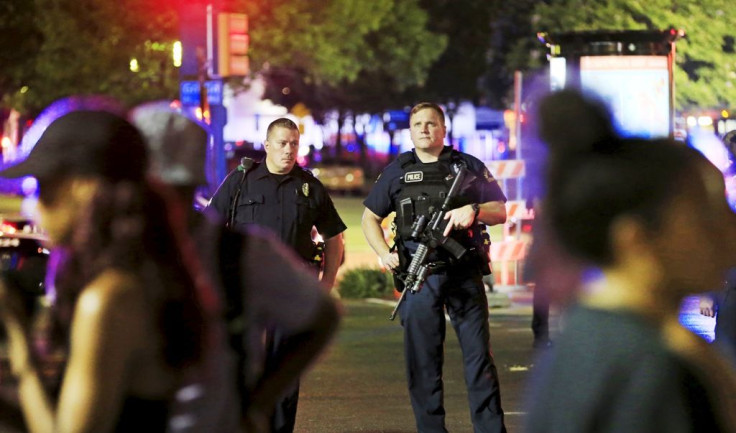 UPDATE: 5:40 a.m. EDT — President Barack Obama called the attack on Dallas police officers "vicious, calculated and despicable." Obama made the comments Friday while in Warsaw, Poland. "We will learn more about their twisted motivations. Let's be clear: There is no possible justification" for the attacks, Obama. The president also vowed that "justice will be done."
"Let me just say, even as yesterday I spoke about our need to be concerned as all Americans about racial discrimination in our criminal justice system. I also said our police have an extremely difficult job and the vast majority do their job in outstanding fashion."
Original story:
Dallas Mayor Mike Rawlings described Thursday night's shooting aimed at police officers during Black Live Matter protests as the "worst nightmare." Two snipers opened fire, killing five officers and injuring six others.
"It is a heartbreaking moment for the city of Dallas," Rawlings told a press conference, adding, "Let's all come together and support our police officers."
Three people, including a woman, have been taken into custody and law enforcement officials are negotiating with a suspect in a downtown parking garage after the suspect opened fire at police officers, Police Chief David Brown said at the conference. Brown also said that the suspect was refusing to cooperate and told negotiators that he planned to attack more law enforcement authorities.
Dallas Police Department released a person of interest, whose picture the department circulated on social media, after he turned himself in. In the picture, a man was seen wearing in a camouflage T-shirt carrying a long gun. A man, who identified himself as Cory Hughes and as the person's brother, told CBS-affiliate CBS 11 that after the shootings began, his brother — Mark Hughes — had turned the gun over to a police officer.
Police were unsure if all suspects had been located, Brown said, adding that it seemed that the shooters "planned to injure and kill as many officers as they could." Officials were searching for the suspects downtown.
Protesters had taken to Dallas streets Thursday night after two black men — Alton Sterling in Baton Rouge, Louisiana, and Philando Castile in Falcon Heights, Minnesota — were killed in officer-involved shootings. Sterling was shot dead Tuesday and Castile was killed Wednesday. The second incident, involving Castile, was streamed live on Facebook.
Following Castile's shooting, Minnesota Gov. Mark Dayton said: "Would this have happened if the driver and passenger were white? I don't think it would have. So I'm forced to confront, and I think all of Minnesota is forced to confront, that this kind of racism exists."
Dayton's response drew sharp criticism from David Titus, the president of the St Paul Police Federation.
"The governor's statement insinuates that law enforcement is racist and it's absolutely inaccurate and inappropriate," Titus said Thursday. "It's outrageously insulting. One would think that a governor especially would know to wait until the facts are in before making a judgment."
Dallas Police Shooting | Graphiq
© Copyright IBTimes 2023. All rights reserved.