'Dance Moms' Midseason Finale Spoilers: Abby Lee Miller's Team Fails To Show At Episode 18 Competition, Lifetime Teases [VIDEO]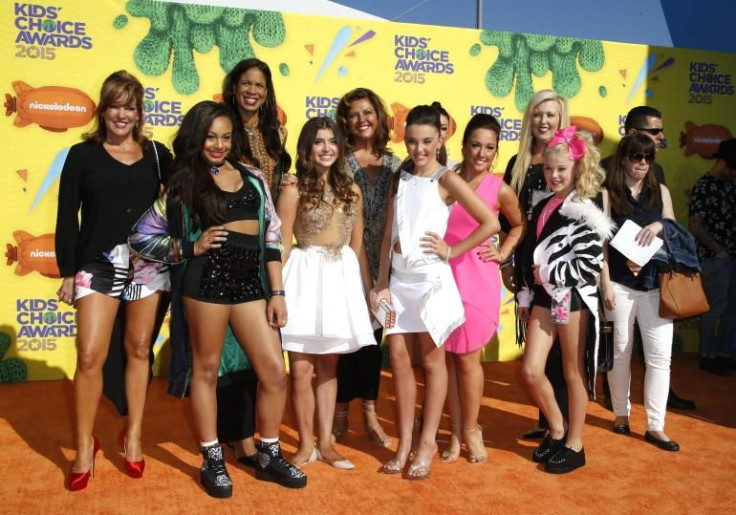 It appears the ALDC girls have gotten a little too big for their britches. Lifetime is teasing the possibility that Abby Lee Miller will be without several of her elite junior team members in the Season 5 midseason finale of "Dance Moms" on Tuesday.
The synopsis for episode 18 reveals that only two representatives from the ALDC will be on hand to compete at the team's last competition in Pittsburgh ahead of their big move to Hollywood. "Chaos takes over and tempers flare," Lifetime's summary for "Showdown in Pittsburgh, Part 2," reveals.
So who will leave Abby hanging? All of the girls except Nia Frazier appear to be wearing similar costumes in one episode promo. But according to a second teaser, it will be the other girls who will be late to their competition performance due to classes at JUMP Dance Convention in Pittsburgh.
And it's not only the lack of team members that will put the ALDC's group dance "Dancing in the Rain" at risk of not winning and facing a potential disqualification. Their rivals, Cathy Nesbitt Stein's the Candy Apples, and dance mom Jeanette Cota's studio, Broadway Dance Academy, will also bring some steady competition to the dance floor. "Cathy and Jeanette bring top-notch routines to try and take the ALDC down," the synopsis reveals.
"Stop playing games! Get off your butt and do something!" Abby tells her students and their mothers in the dressing room in the initial teaser as the girls are seen scrambling to get ready. "This is my reputation on the line," Abby adds.
[Spoiler Alert]
It turns out Abby's reputation is perfectly fine. Despite Lifetime's attempt to hype up the drama for the midseason finale, one "Dance Moms" spoiler site reports that the elite junior team took first place in the junior division and first overall for their group lyrical routine at Starbound in Butler, Pennsylvania, on Feb. 15.
The rest of the ALDC dancers were not so lucky with their entries. The spoiler site reports that Nia did not place with her routine, and JoJo Siwa reportedly took home third in the junior division for her improvised solo.
While the Candy Apples did not score a victory, they did manage to take second-place overall with their lyrical/contemporary group number. Meanwhile Jeanette's studio also scored a big win with Jeanette's daughter Ava Cota's solo. She is said to have placed first in the senior division and first overall with her solo, which was based on Abby's negative comments to her in Season 4.
The Season 5 midseason finale of "Dance Moms" airs Tuesday at 9 p.m. EST on Lifetime.
© Copyright IBTimes 2023. All rights reserved.