'Dance Moms' Star Melanie Huelsman Speaks Out About Abby Lee Miller Book Signing Drama, Why Haley Joined The Candy Apples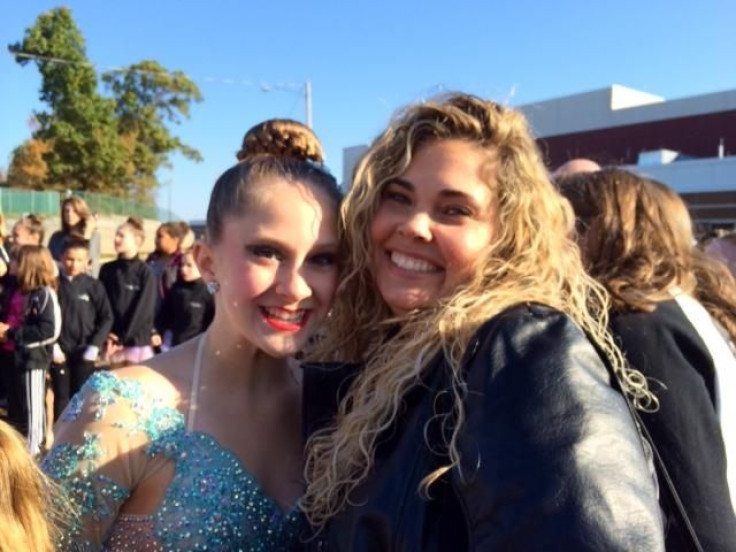 The stars of Abby Lee Miller's spinoff competition series, "Abby's Ultimate Dance Competition," have slowly been seeping into her main project, "Dance Moms," since 2013. It all started with Asia Monet Ray in Season 3, and in more recent episodes, has grown to include Kalani Hilliker, JoJo Siwa and most recently, Season 2 "AUDC" contestant Haley Huelsman. But with the barrage of new dancers joining the Lifetime reality show also come their dance moms, and as expected, the drama that seems to follow.
Following Haley's recent stint on "Dance Moms" competing against the ALDC on Cathy Nesbitt-Stein's Candy Apples team, her mother, Melanie Huelsman, spoke with International Business Times about their time on the show. The dance mom revealed why she decided to let her daughter join Abby's rival team and also shared her side of the story regarding the infamous book singing fiasco addressed by Abby in episode 12.
In "Abby's Trash, Cathy's Treasure," Abby slammed Melanie for letting Haley, 13, sign copies of her book, "Everything I Learned About Life, I Learned In Dance Class," during one stop on her 2014 book tour. "This Haley chick, the last time I saw this kid and her mother was at an open call audition and I had to finally lay into her and tell her how despicable it was. She showed up outside a book signing that I was doing and signed my book," Abby vented. "So instead of thinking about her daughter's future, she's going to stoop to the level of dancing for Cathy. It's all about revenge for her."
While Melanie admits she did attend Abby's book signing near her hometown in Connecticut in July, she says the drama surrounding the incident was blown out of proportion. "What happened was everyone was coming up to Haley because she was on Abby's show — or else no one would know who Haley is — saying, 'I want your autograph,'" Melanie explained to IBTimes. "So, in return, kids were giving [Haley] Abby's book. Did I ever think what Haley did would backfire the way it did? Absolutely not."
After her daughter autographed a few fan's books, Melanie says Abby compared her and her daughter to former "Dance Moms" stars Christi and Chloe Lukasiak (a mother-daughter duo that Abby has been at odds with since the show premiered in 2011) at the event.
Ultimately, Melanie says she does not feel what her daughter did was wrong. "At the end of the day, she wrote the book, but guess what? We purchased the book. So in actuality, that was our property, or anyone who bought the book, it was their property. So if the kids wanted my kids to sign it, what was I supposed to say?"
While Melanie says Abby did not address the book signing incident at her studio's Booty Camp in August — Abby gave Haley a scholarship to the event — she did bring up the incident during a Season 4 audition for the ALDC team in the fall of 2014.
"She talked about it for a long time at the audition," Melanie said of the scene that was recently rehashed on Season 5 of the reality series. "At the end of the day, I will speak the truth… I never meant for it to end up that way."
Despite having a strained relationship with Abby, Melanie says she agreed to let Haley star on "Dance Moms" Season 5 because her daughter was not only a fan of the show, but because she wanted to help her pursue her dreams. "Haley really wanted to be on Abby's team. She honestly looked up to Maddie [Ziegler]," the dance mom admitted. "She was and still is a big fan of Maddie. She was like, 'Mom, I want to do that. I would love to do that!'"
According to Melanie, her daughter "eats, sleeps and breathes dance," so when a spot on Abby's rival team opened up, she allowed her daughter to jump at the chance. Cathy, who Melanie says has been keeping tabs on Haley's dance career for quite some time, expressed interested in the "AUDC" through Facebook. "She has seen so much growth in Haley and according to her, she has been trying to get Haley on her team for a while now," Melanie shared.
Unlike Haley's experiences with Abby while filming "AUDC" — Melanie says her daughter was "afraid" of the Pittsburgh coach — the Lifetime star had nothing but kind words to say about the Candy Apples leader. "People don't really get to see who she really is because she truly is an amazing person and she really does care about the kids," Melanie said of her daughter's newfound coach. "You don't have to be mean and negative and hurtful to get [the kids] to do what they need to do… Haley loves working with Cathy as much I believe she loves working with my daughter."
While Melanie's relationship with Abby isn't on the best of terms following her recent "Dance Moms" appearance — especially after slamming her star student's recent appearance in a recent Sia music video — she did admit that she is grateful for all the tough love coach has done for her offspring's career. "We are here today because of her, so I'm grateful for everything she has done for my daughter. We wouldn't be where we are if it wasn't for her."
Haley currently studies with former "Dance Moms" star Jade Cloud at New England Dance and Gymnastics Centers in Connecticut. While it's unclear when or if Haley will return to "Dance Moms," Melanie did tease that a big project is on the horizon for her daughter.
"Dance Moms" airs Tuesdays at 9 p.m. EDT on Lifetime.
© Copyright IBTimes 2023. All rights reserved.