Abby Lee Miller Slammed For Making Fun Of Candy Apples Dancer Chloe Smith's Physical Appearance On 'Dance Moms'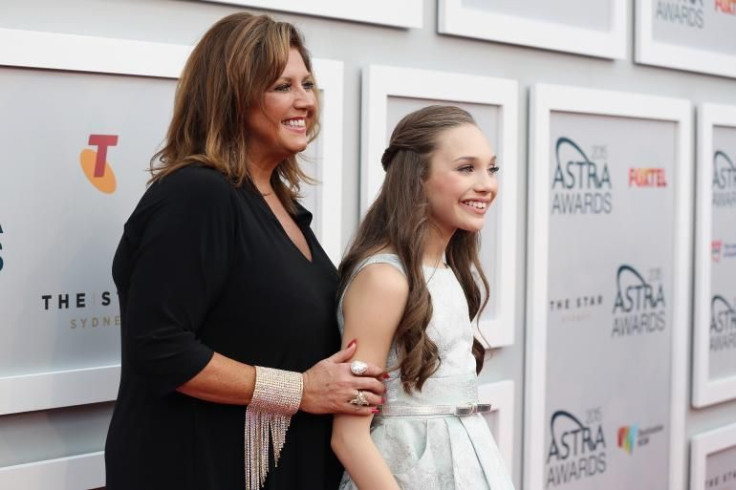 Abby Lee Miller is in the hot seat following the premiere of the latest Season 5 episode of "Dance Moms" Tuesday. In the installment, titled "Mackenzie's Time To Shine," the ALDC dancers failed to bring home a first-place win with their Spice Girls-inspired group routine, causing Abby's team to place second to their longtime rivals the Candy Apples.
Following their big win, the Candy Apples team, including coach Cathy Nesbitt-Stein, decided to visit the ALDC's dressing room in episode 13. Abby reacted by insulting one of her rival team's dancers. After Cathy showed up holding a cake featuring an unfavorable screenshot of Abby's face, the ALDC coach slammed dancer Chloe Smith's physical appearance before leaving the dressing room, telling the 14-year-old, "Get those ears fixed."
"Abby, I can't even believe you just did that!" Chloe's mom Liza Smith said. After being instructed by Cathy to "go get her," Liza tailed Abby down the competition's hallway. "Why would you do that to my daughter? My daughter was in there and saw that!"
Not even Abby's dance moms stuck up for her following her brutal remark. "Everyone knows this girl is a beautiful dancer, but what Abby said is horrible," Jill Vertes told the cameras. "Abby's just mad that we lost. They came in to rub it into our faces and Abby let her have it. It's like waking a sleeping bear. They came in poking at Abby and Abby let her have it."
"This isn't what we need going back to L.A.," dance mom Melissa Gisoni, who is usually on Abby's side, added.
While Chloe cried over Abby's words, the adult "Dance Moms" stars rallied around her in an atempt to help bring her back up. "Hold your head high and keep doing what you're doing. You're beautiful," Jill told Chloe.
Despite the initial backlash for her comments, Abby continued to insult the dancer's appearance. "Why can't she just get her ears pinned back? What's the big deal?" Abby asked.
Following the episode's premiere, Cathy and her Candy Apples dance moms continued to bash their rival co-star on Twitter.
"Chloe is a very secure confident little girl. Nothing that anyone can say about her ears would hurt Chloe!" Liza posted to Instagram alongside a photo of her daughter dancing at the Jan. 7 competition Tuesday. "She's had the chance to get them fixed 1 million times and she chooses not to because they are so beautiful! For anyone that is getting bullied, please know that you can always reach your dreams no matter who is bullying or telling you different!"
"Dance Moms" fans also took to social media to slam the Lifetime series lead.
This isn't the first Chloe Abby has been accused of making fun of. Ahead of her Season 4 departure from the Lifetime series in October, former ALDC dancer Chloe Lukasiak, now 13, was also rumored to be have had her physical appearance critiqued by Abby. Following the premiere of the season closer, Chloe's mom Christi Lukasiak accused the episode of being edited in Abby's favor. While "Dance Moms" viewers saw Abby call the performer "washed up," Christi claimed Abby also shared a negative comment regarding her daughter's looks.
"Actually, Abby made fun [of] Chloe's face caused by a medical condition, NOT HER DANCING," Christi tweeted.
Another "Dance Moms" star, Jo Anne Morales, backed up Christi's claims on Tumblr. According to the former Candy Apples dancer who was present at the 2014 competition, Abby "was mocking her eye and telling her to get it fixed."
What do you think of Abby's comments to the Candy Apples dancer? Tell us your thoughts in the comments section below. "Dance Moms" airs Tuesdays at 9 p.m. EDT on Lifetime.
© Copyright IBTimes 2022. All rights reserved.
FOLLOW MORE IBT NEWS ON THE BELOW CHANNELS