Dance Therapy: A Profession With its Own Rhythm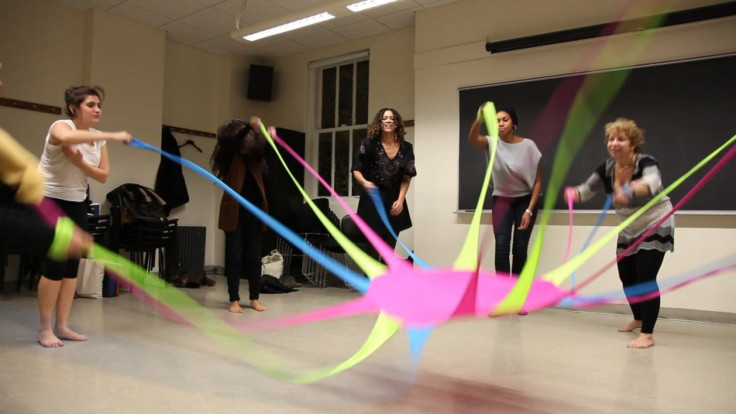 Amber Elizabeth Gray traveled through post-genocide Rwanda in 1994 on a mission to assess the long-term damage to public health shortly after the country-wide massacre . During the trip, Gray and colleagues came upon a village in northeastern Rwanda that was pretty much wiped out, she said.
A public health specialist focused on international trauma, Gray was pondering a career switch when an impromptu gathering inspired her.
As adult villagers lay in a wrecked health clinic, children tried to make sure Gray and her colleagues knew where to avoid dangerous landmines. The children enthusiastically gathered shards of whatever they could make sound with -- old cans, fragments of things -- and did a welcome song and dance, Gray said. She had found her new career: dance therapy.
Dance therapists, also called movement therapists, use the body's movement as a door to mental and physical health in a variety of settings, including hospitals, nursing homes and veteran centers. Dance therapy is growing - the U.S. Bureau of Labor Statistics estimates that the number of therapists will increase by 15 percent by 2018. Yet as the field grows, experts disagree on whether dance therapy helps patients recover from injuries or illness.
Researchers reported that dance therapy had no effect on improving body image in cancer patients in a 2011 study. However, a study with 27 breast cancer survivors concluded that physical and psychological health improved after a 24-week program of traditional Greek dancing and upper-body training. Still, the American Medical Association has no position on dance therapy, and even the American Dance Therapy Association (ADTA) says more research is needed to legitimize it. That's an area that our association is focusing on, ADTA spokeswoman Christina Devereaux said.
Some of the increased interest in dance therapy comes, in part, from the wider exposure dance now receives from television programs such as Dancing with the Stars and So You Think You Can Dance.
We're getting a lot more interest from people in high school as well as people in college, dance therapist Donna Newman-Bluestein said. Newman-Bluestein invented the Octaband, a prop used in dance therapy.
Licensing for dance/movement therapy occurs at the state level, Devereaux said, and each state determines its own rules and regulations. The state of New York offers a license for creative arts therapists, and this includes dance therapists.
As the field grows into its own, outside organizations are noticing dance and movement as possible tools in a doctor's bag.
Dance therapy provides aerobic exercise with its cardiovascular and metabolic benefits and can help with range of motion/flexibility and balance, Ted Gansler, director of medical content for the American Cancer Society, stated in an email. Also, dance therapy can have social and emotional benefits as it is often done in a group setting, and can be a way for participants to express their feelings in a creative way. Dance therapy is one of several movement-related complementary therapies for cancer survivors to consider, but of course, should not be used as an alternative to conventional treatment.
Students who pursue studies in this field are aware of the challenges they face, both as aspiring professionals and as therapists. Diana Seabra, 26, is pursuing a Master's degree in dance therapy from the Pratt Institute. She noted that dance therapy may disappoint trainees hoping for a career focused on dance.
You can't come to this field to fulfill your need to be a dancer, Seabra said. It's not about that. If you go with that you won't be a good therapist.
Seabra realizes how dance therapy may be undermined by more clinical professions, where medical symptoms and treatments are more concrete.
Dance therapy is not that way and you need more time, and you need the process, she said. You have to see to believe it, and you have to do to believe it. I feel like it's a field that we have to fight for.
Nancy Koprak, a dance therapist for more than 20 years at the Maimonides Medical Center, said she was lucky in her experience. Maimonides was unusual because administrators took creative arts therapy seriously and respected the therapists, said Koprak, who retired earlier this year.
I always felt safe, she said. That's extremely important because you're working with people you don't know.
Dance therapy sessions vary depending on the patients, their needs and the environment. Koprak's training provided her with five parts to a group dance therapy session: warm-up, release, theme, centering, and closure. Therapy sessions typically begin and end in a circle. The warm-up includes a social component, Koprak said, giving the group a chance to learn about each other. Release consists of very fast motions, such as laughter, which can reduce tension. The theme part of a session can involve a topic such as body image or role-playing, Koprak said.
In general, the therapist should be sensitive to the needs of the participants and not be choosing themes randomly, she wrote in an email. Next, centering brings the group back to the center of the room, and closure consists of thanking people for being in the group and talking about what will happen next. Koprak noted that dance therapy pioneer Marian Chace had the idea of a dance therapy session having warm-up, theme and closure components, while another dance pioneer, Marcia Leventhal, added the release and centering components.
So can one get a job in dance therapy? Can people in this field afford to feed themselves? Newman-Bluestein hears these questions from younger people interested in the profession. She noted that while there are opportunities for this kind of work, dance therapists also need to be good salespeople.
We still have to create the job, Newman-Bluestein said, adding that networking and having the support of other dance therapists can be a huge help.
Seabra is aware of the job market challenge. I feel that in our field we have to be creative to find our jobs, she said. Seabra has big plans for her degree: she wants to bring dance therapy to her native Portugal. But for now I really want to take this chance to learn and to be the best therapist that I can so when I go to Portugal I can introduce this field, she said.
Since her epiphany in 1994, dance therapist Gray has worked with torture victims worldwide in areas as diverse as the Caribbean and the Middle East. I learned how carefully and judiciously this work has to be used with people whose bodies have been violated, she said.
Gray wrote of her professional experiences and the broader movement of using arts as a means of therapy in the journal Torture in 2011.
For many cultures where the creative process is included in ritual, healing and daily life, (dance/movement therapy) may be more appropriate than conventional talk therapy, she concluded.
Like other dance therapists, Gray believes dance therapy should be taken more seriously by the medical community.
You can't afford to ignore this kind of work anymore, she said.
© Copyright IBTimes 2023. All rights reserved.