'Dancing With The Stars' 2015 Spoilers: Season 21 Contestant Paula Deen Reveals Why She's 'Nervous' To Compete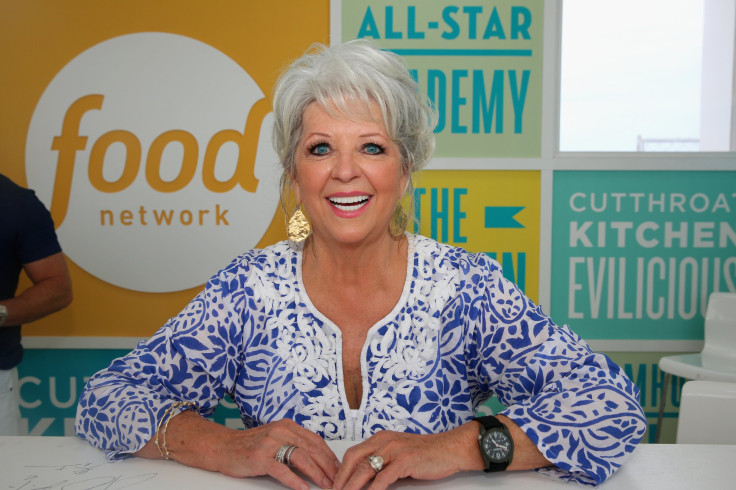 Paula Deen is taking a break from whipping up sweet treats in the kitchen to stir up trouble on Season 21 of "Dancing With the Stars." That's right, the butter-loving cook is headed to the ABC ballroom! And viewers got a first glimpse at the chaos the former Food Network star, who has become infamous for her controversial remarks about race in 2003, will cause in a recently released promo video for the upcoming installment of the competition series.
In the 14-second clip, viewers can watch the 60-year-old silver-haired chef's initial -- and frisky -- reaction to getting paired with "DWTS" veteran Louis van Amstel.
"Ah!" she screams, before scandalously shoving the chiseled 43-year-old dancer's head into her chest. "Put your head on mommy's bosom."
"Nice and soft," he says, following the strange greeting. The next thing viewers know they're watching Deen hand-feed her shimmying sidekick a snack ... in slow motion. From the look on van Amstel's face, it's safe to say that whatever the chef slid into his mouth was a real treat.
In Deen's personal blog, the chef explained her feelings about embarking on this "physically demanding" journey on "DWTS."
"Let me tell you -- I'm excited and nervous," she admitted. "There's just a whole array of emotions that could overwhelm a person."
But luckily, the chef was put at ease when she learned that van Amstel was going to be coaching her through the challenging competition.
"I can't tell ya the relief I felt when I saw Louis at my door," she said. "He was exactly who I was hopin' for. You know, I'm crazy about Louis. I like his eyes. He has kind eyes. But I may find out that he's really hard on me as we progress through the season!"
Deen's prediction turned out to be true. On Sept. 3, a day after the full Season 21 roster was announced, van Amstel posted a rehearsal picture of the two drenched in sweat.
"Working hard!" he wrote, along with a photo of the dancing duo, dubbed "Team Buttercup," at practice.
The celebrity chef went on to reveal in her blog post that she was offered a spot on the star-studded cast of "DWTS" a "few" times but is glad she decided to wait until the 21st installment to participate.
"I just don't think I would have made it through the season in past years. I was overweight and battling my diabetes," Deen explained. "Now, I'm in the best shape of my life, and my weight is under control. Although practice is tough, I can keep up at rehearsals -- I can't say that I would have been able to a few years ago. But I'm eating healthier and enjoying my Southern indulgences in moderation."
Fans can watch Deen and van Amstel take on the Season 21 competition when "Dancing With the Stars" premieres on Monday, Sept. 14, on ABC.
© Copyright IBTimes 2023. All rights reserved.