Darth Vader Running For President of Ukraine: Ukrainian Internet Party Pays $225K Fee For Candidacy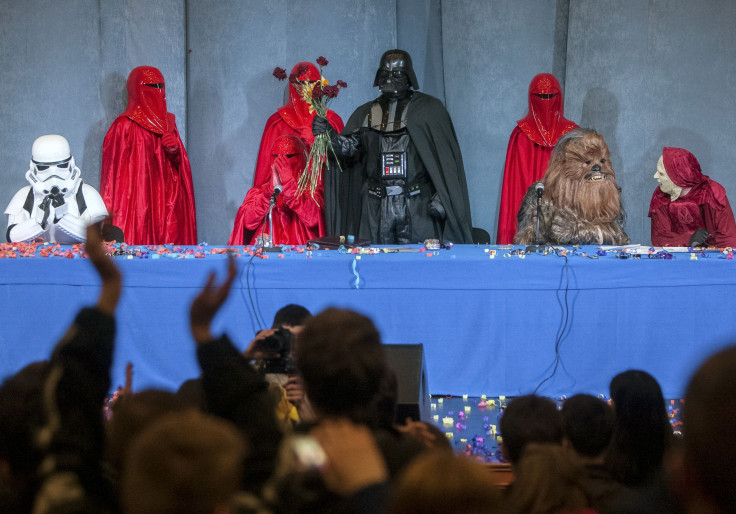 The Ukrainian Internet Party (UIP) is playing what might be the most expensive political prank in their country's history. The activist group and political party will run Darth Vader as their candidate for president in the country's upcoming election in May.
The party paid the roughly $225,000 registration fee required to register a presidential candidate, and contend that Vader's candidacy is no joke.
The UIP runs on a platform of digitizing the government of Ukraine, offering free computer and foreign-language courses to all Ukrainians and abolishing nearly all taxes to bring in foreign investments to the struggling country, now in the middle of a revolution and facing a military threat from Russia.
The party has been known to send Vader and his stormtroopers out on elaborate (and comical) political missions across the country.
"I am prepared to take responsibility for the fate of this country, if fellow citizens do me this high honor. I alone can make an empire out of a republic, to restore former glory, to return lost territories and pride for this country," said Vader, after winning the inter-party primaries by a landslide. Watch his acceptance speech via Ruptly.
He also demands a space to park his spaceship.
The UIP was registered by the infamous Ukrainian cyber-criminal Dmitry Ivanovich Golubov in 2010. The party was abolished by a Ukrainian court in August 2012 for not having a regional office.
Fourteen presidential candidates have submitted documents to the Ukrainian Central Elections Commission (CEC) to run for president, and five are now formally registered as candidates, according to Interfax Ukraine.
Vader ran for a seat in Parliament as a write-in candidate in 2012 and got 3 percent of the vote, but Ukrainian law doesn't recognize write-ins.
Watch some of the Sith Lord's antics below:
In early 2013, Vader and a group of Stormtroopers attempted to enter the Ukrainian Ministry of Justice but was stopped at the door by a security guard. The police weren't happy with the Sith Lord, who sought to hand the charter of the UIP to the Ukrainian Minister of Justice so that the abolished party would be taken seriously:
In November 2013, by decree of Emperor Palpatine, he was carried in a chair by Stormtroopers to the City Hall in Odessa and declared himself mayor of the city:
FOLLOW MORE IBT NEWS ON THE BELOW CHANNELS