David Denby Body Snarks Cheryl Strayed In 'Wild' Review; Still Obsessed With Sex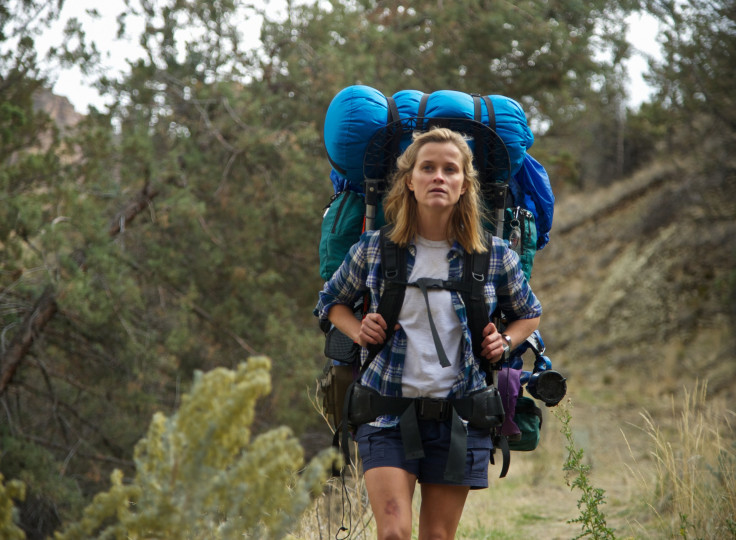 New Yorker movie critic David Denby's recent review of "Wild" is four paragraphs long, but it manages to pack a whole lot of sexism into those four paragraphs, including a comparison of star Reese Witherspoon's body with that of Cheryl Strayed, the author of the memoir the film is based on, as well as a pervy overinvestment in the sexual aspect of Witherspoon's portrayal of Strayed.
The very first sentence of his review transforms the sounds of Witherspoon grunting in pain because her toenail is infected and falling off, with sexual sounds. " 'Wild' opens with a shot of majestic forested mountains and the sound of a woman breathing harder and harder," writes Denby, "as if in sexual excitement."
Later, Denby praises the film because its character is a sexual being. "One of the things that make Cheryl more complicated and compelling than the heroine of 'Tracks' (this year's earlier woman-schlepping-across-the-desert movie) is that, along the trail, she experiences every encounter with men as fraught with erotic possibility -- or trepidation. (She has one happy meeting with a sinewy young man played by the Dutch actor Michiel Huisman.)"
It's true that Strayed's sexual nature is definitely part of what makes her character tick -- but the memoir and film focus on Strayed's mourning of her mother, who she calls "the love of my life," and this gets barely a mention by the sex-obsessed Denby. In his memoir "American Sucker," Denby confessed to an addiction to Internet pornography, and his piece on "Wild," he shows that perhaps his pornified view of movie-watching is still informing his reviewing. He hasn't exactly stopped fetishizing women's bodies or oversexualizing them.
Perhaps the most egregious example of Denby's sexism is his irrelevant comparison of Strayed's body with Witherspoon's. "In photographs," Denby writes, "Cheryl Strayed looks like a big-bodied woman, but Reese Witherspoon stands barely more than five feet, and when she first tries to pull on her monster pack it forces her to the ground." What does Strayed's body have to do with the film? If he'd read the memoir, he would realize that the drama of the backpack figures prominently. The only conclusion that can be reached is that Denby seems to be able to see women only as bodies rather than complex people.
In a brief phone conversation International Business Times had with Denby, he defended his review. "Film is a sensuous form. You want to talk politics, I want to talk art. I didn't call Cheryl Strayed 'fat.' But she's physically quite different in the shoulders than Reese. Criticism lives through particularity. This piece went through my editor, who is a feminist, and fact checkers. No one had a problem with it."
But was Denby really the best person to review a film that helps to break ground for women in Hollywood by featuring a story written by a woman, optioned by its female star? He has been accused of sexism for his salacious focus on female characters' bodies in his reviews. In a 2006 article in Indiewire called "Is Film Criticism Sexist?" Anthony Kaufman lays out out the various ways Denby pervily focuses on women's looks in his reviews:
"Why is it important to David Denby, for instance, that Jennifer Aniston is 'looking great naked from the rear' (The Break-Up) or to point out that 'the stunning Rebecca Romijn, as Mystique, in body-fitting blue scales [is] the most openly erotic image in recent mainstream cinema' (X-Men: The Last Stand), or that actress Kelly Reilly engages each man she meets onscreen with her face, her body, her breathing' and 'has a way of lowering her eyes in shame which grabs at your heart' (Russian Dolls)."
Why, indeed.
Reese Witherspoon signed on to "Wild" because she loved the book and because she was frustrated with the lack of women's stories in Hollywood. She decided to option both "Gone Girl" and "Wild," two books written by women, after a meeting with Hollywood execs in 2012, reports Variety. "I think it was literally one studio that had a project for a female lead over 30," she said. "And I thought to myself, 'I've got to get busy.'  "
Denby's review does a disservice to the film, and underscores the need for more female movie critics -- and fewer sexist male critics.
© Copyright IBTimes 2022. All rights reserved.
FOLLOW MORE IBT NEWS ON THE BELOW CHANNELS