Demi Lovato Fights Off Haters at MTV Video Music Awards on Twitter [PHOTOS]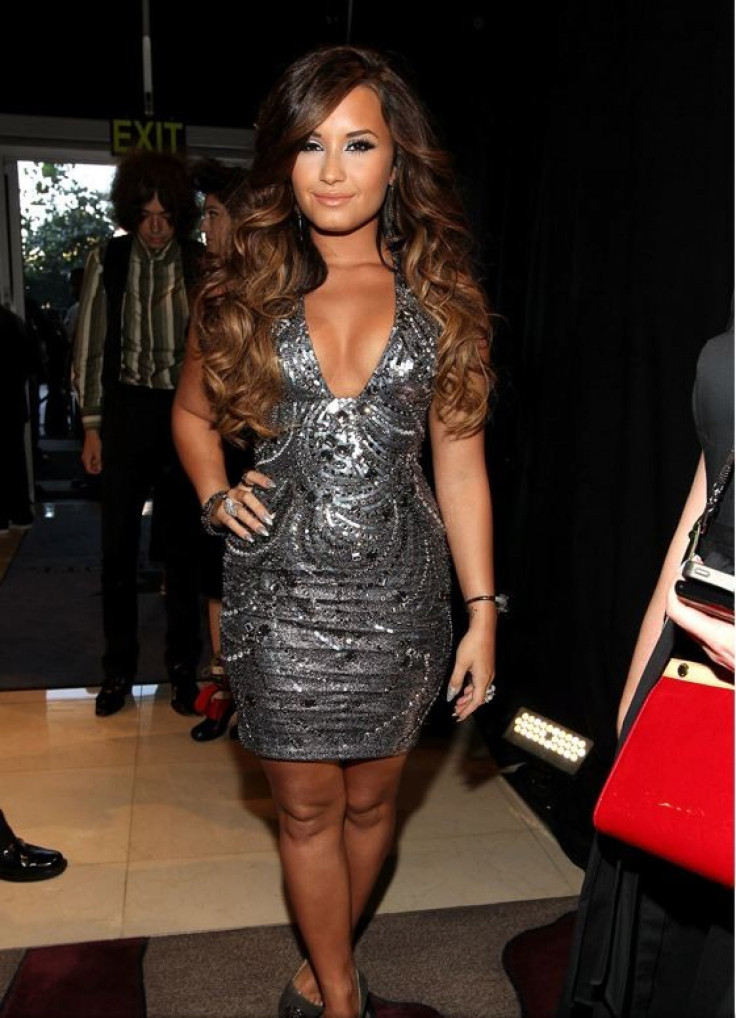 Demi Lovato stunned at the MTV VMA with her sparkly silver mini-dress and long wavy locks. Not only did she shine in her dress, the star was noticeably glowing in the face. Demi mingled with BFF Selena Gomez who was the VMA pre show host. She also had a chat with Justin Bieber who showed her his snake, Johnson.
Although the night was full of laughs and exciting performances, Lovato was faced with haters who had much to say about her new look. I've gained weight.Get over it.That's what happens when you get out of treatment for AN EATING DISORDER, she tweeted. It was reported that she later removed that Tweet and posted again later. Guess what, I'm healthy and happy, and if you're hating on my weight you obviously aren't. :) #UNBROKEN.
A fan of Lovato also made a comment to the star about her arms.
Lovato spent most of last year out of the limelight because of personal issues. The Disney singer was reported to have been battling with her recent break-up with singer Joe Jonas, pressure from the media, and an eating disorder she had been struggling with for approximately six years. When Lovato allegedly punched a backup singer from her Camp Rock 2: The Final Jam tour, friends and family knew it was time to get the singer help. She spent some time in rehab to work on those issues privately.
I was just lying to everyone. My managers, the people I was working with. I was lying about eating, and just being happy, Lovato revealed on On Air With Ryan Seacrest. It was affecting every area of my life. I was being cranky, I was irritable, not pleasant really to work with. I became a little brat on set, and I just had so much growing up to do, she continued. I just had so much going on in my head. It all just boiled up and I ended up doing things that I regret to this day...There is a lot of pressure these days. I feel like I live in a city where no woman eats.
Lovato could not be more correct. According to the National Association of Anorexia Nervosa and Associated Disorders, (ANAD), Anorexia is the third most common chronic illness among adolescents. 81 percent of 10 year-olds are afraid of becoming fat. 47 percent of girls between 5th and 12th grade say that they want to lose weight because of photos they have seen in magazines. 69 percent of girls in the same group say that images in magazines have affected their idea of what a perfect body is.
And yet: The body type portrayed in advertising as the ideal is possessed naturally by only five percent of American females, (ANAD) said. Pressure is in abundance. Unfortunately, body shape is only one example of perfection girls feel pressured to attain.
Demi Lovato's single Skyscraper has been an encouragement to all people. Selena Gomez even tweeted: SO, SO proud of Demi Lovato, Skyscraper. Incredible, beautiful and so inspiring. The empowering ballad is truly moving.
This song is so special to me because it's inspired by my journey and the struggles that I've dealt with this past year, Lovato said in a recent interview with seventeen.com. I hope people are able to relate to it and realize that they are able to rise above and overcome any obstacle, no matter the circumstances, and shine like a skyscraper.
Fans are very excited that Lovato has a bright outlook on life and is not allowing anything to hold her down. This motivational tune has enlivened girls everywhere. As Lovato trended on Twitter after the VMA show, many expressed their support for Demi.
Demi Lovato is stunning. She isn't fat or chubby. She's healthy and perfect the way she is.
Whoever made up this TT is SOOOOOOO right -- DEMI LOVATO IS STUNNING... In your face haters! To get a TT, there must be loads of LovaticLove
Demi Lovato is stunning. If you say she's ugly then I wanna be ugly too.
Sorry haters , but Lovatics always stick together (; DEMI LOVATO IS STUNNING♥ @ddlovato
Lovato was so overwhelmed by the love from her fans that she finally tweeted back to them. OMG MY FANS ARE INCREDIBLE!! Another TT?!!!!!! WOW!!! Thank you thank you THANK YOU!!!! :D
I am still on a personal journey dealing with my own issues each and every day, but the best advice I can give to anyone going through a rough patch is to never be afraid to ask for help, Lovato said in an interview.
© Copyright IBTimes 2023. All rights reserved.