Denver Broncos Vs. San Diego Chargers 2014: Prediction, Betting Odds, Preview For Week 8 Thursday Night Football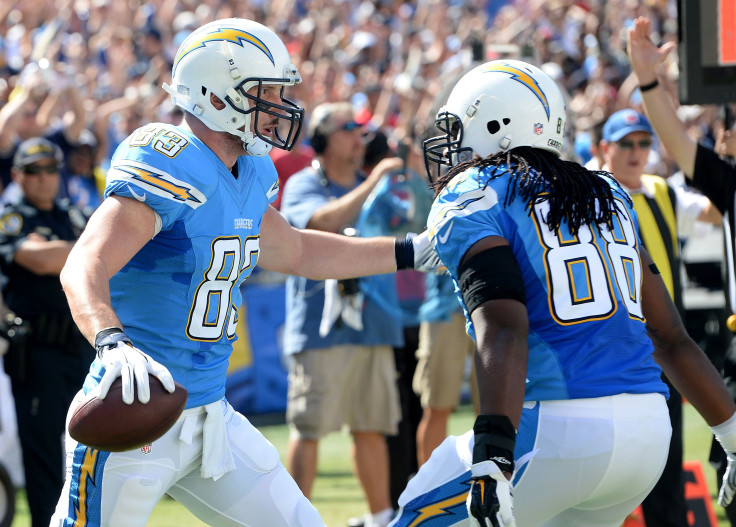 Peyton Manning made headlines on Sunday by becoming the league's all-time leader in touchdown passes, but he also led his team to a victory that put them in first place. Just four nights later, he'll lead the Denver Broncos (5-1) against the San Diego Chargers (5-2) with the top spot in the AFC West on the line.
While the defending champion Seattle Seahawks are struggling in 2014, the Broncos have played as well as any NFL team, following their trip to the Super Bowl. Entering "Thursday Night Football" in Week 8, Denver is one of just four teams that has one loss.
The Broncos' first two wins were decided by one possession, but they have been largely dominant in their victories. Denver beat the San Francisco 49ers by 25 points in Week 7, and all but one of their wins since 2012 have come by at least seven points.
Denver's wins haven't just come against mediocre teams. The Broncos have won five of six games against one of the most difficult schedules in the league. They've beaten two first-place teams, and only one of their victories came at the expense of a team with a losing record.
San Diego had sole possession of first place before their loss on Sunday, but they did so by beating mostly subpar competition. Three of their wins have come against teams with one or no wins, and they lost to the Arizona Cardinals and Kansas City Chiefs, who've combined for an 8-4 record.
On Thursday night, the Chargers are looking to prove that they are a legitimate contender in the AFC. San Diego has been characterized by underachieving teams in the past decade, but Philip Rivers' MVP-caliber season might make San Diego a threat to the Broncos in the conference.
Rivers ranks in the top five in passer rating, completion percentage, passing yards and touchdowns. The quarterback is coming off possibly his worst game of the season, throwing for just 205 yards against the league's No.2 passing defense.
If the Chargers have any hope of pulling off the upset in Week 8, Rivers will have to put up impressive numbers. Even though the Chargers have the No.3 pass defense in the NFL, no team has come close to stopping Manning this year.
In his record-setting performance, Manning threw four touchdown passes and registered a near-perfect passer rating. The veteran has thrown for at least three scores in all but one game, tossing two touchdown passes in the other contest. His 118.12 passer rating is first in the league, as are his 19 touchdowns, even though he ranks just 15th in pass attempts.
They might be facing a playoff team, but the Broncos are one of the biggest favorites in Week 8. Las Vegas betting odds have Denver giving San Diego 7.5 points, and the over/under comes in at 51 total points. The Chargers are tied for second with a 5-2 record against the spread, according to vegasinsider.com.
A road win in Week 8 might appear unlikely for the Chargers, but they were successful in a similar spot a year ago. "Thursday Night Football" in Week 12 of last season saw San Diego leave Denver with a 27-20 win. The Broncos entered the contest at 11-2, with Manning having thrown 45 touchdown passes and nine interceptions.
Prediction: The Chargers have managed to play the Broncos close since Manning arrived, losing just one of five matchups by more than one score. However, San Diego will find it difficult to compete with the AFC's top team. In addition to having an elite offense, Denver has an elite defensive unit, which has allowed more than 20 points in regulation only one time. It's hard to imagine any team giving Denver much trouble at Mile High.
Predicted Score: Denver 34, San Diego 21
© Copyright IBTimes 2023. All rights reserved.