Derrick Rose Injury: How Much Time Will The Chicago Bulls Point Guard Miss?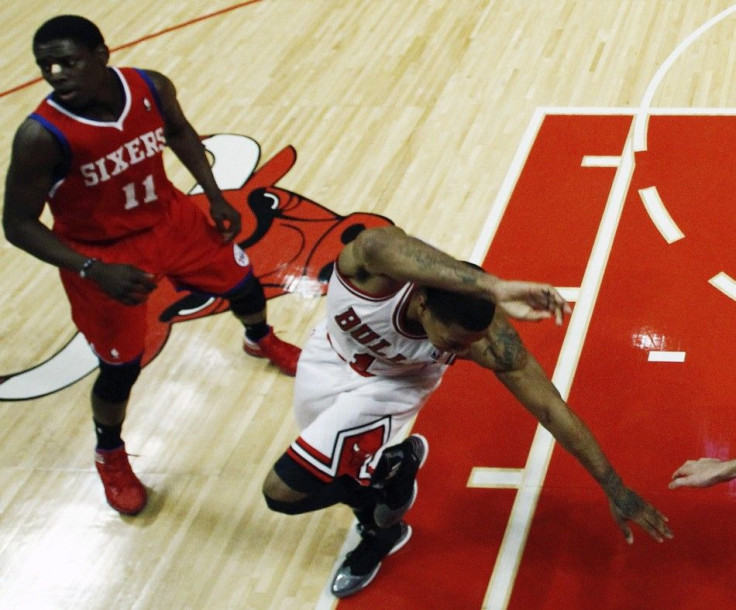 It didn't take very long for Chicago Bulls star point guard Derrick Rose to get hurt again. Just two games into the 2014-2015 NBA season, the former Most Valuable Player has suffered another injury.
Rose was forced to leave Friday night's contest against the Cleveland Cavaliers with a sprained left ankle. ESPN reports Rose also sprained his right ankle when he tried to play in the second half, before shutting it down for the night.
While Bulls fans were extremely worried when Rose hobbled off the court in the second quarter, the injury isn't serious.
"Don't worry, it's just an ankle sprain," Rose said after the game.
"It's basketball. It ain't like I tore something, or tore a ligament or something. It's just that I sprained my ankle and I had to sit out."
NBA fans have become all too accustomed to seeing Rose get injured. He played just 59 percent of the lockout-shortened season, after winning the MVP in 2010-2011. In the next two years, two separate knee injuries kept him off the court for just 10 games.
Rose's latest injury might not force him to miss any time. The Bulls play at Minnesota on Saturday, and his status for the game is uncertain.
Rose looked like his old self in 25 minutes against Cleveland. He scored 20 points on 8-of-16 shooting, and the Bulls outscored the Cavs by eight points with him on the court. Without Rose at the end of the game, though, Chicago lost in overtime, 114-108.
Kirk Hinrich, who started at shooting guard, moved to point guard in Rose's absence. Backup point guard Aaron Brooks also saw 20 minutes of playing time, scoring 11 points.
If Rose misses any time, Hinrich, Brooks and Tony Snell are expected to see more playing time. With Hinrich moving to point guard, Snell's minutes in the backcourt increased against Cleveland. Snell, who finished the game with 10 points, started in overtime.
© Copyright IBTimes 2023. All rights reserved.