Derrick Rose Injury Return: Thibodeau Addresses Rose Rehab After Bulls Guard Was Seen On Chicago's Bench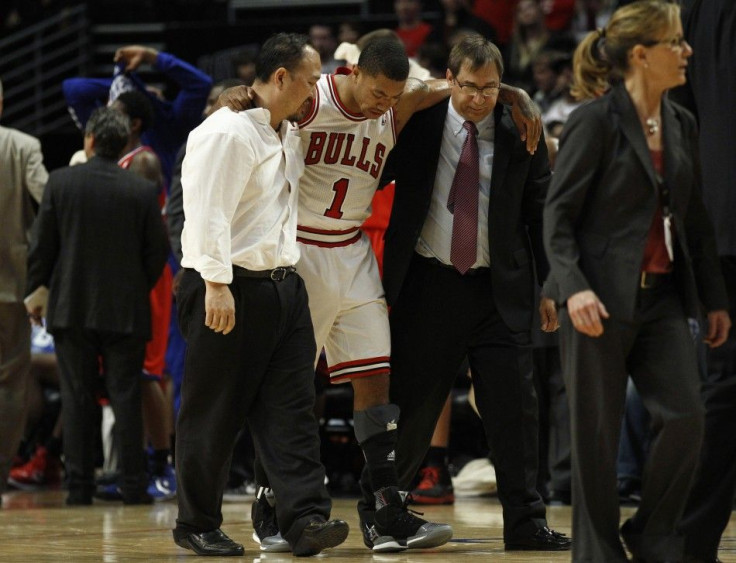 For the first time since tearing his ACL last April, Derrick Rose was on the bench for a Chicago Bulls game.
Rose sat with his teammates on Sunday night as the team lost to the Indiana Pacers, 97-92. He's still not on the active roster, and was dressed in street clothes.
The move seems to be another sign that Rose is getting closer to making his return from injury. However, the former No.1 draft pick won't set a date for his first game this season, and Tom Thibodeau says Rose's presence at games doesn't mean he's almost ready to play.
"We talked about it from the beginning," said the Bulls head coach. "The reason he's been in back [during games] is because he's been working in back. There's stuff that he's doing back there and now he's not doing that as much, he's doing more before the game, so that part's taken care of. It's just the next step."
According to Thibodeau, just because Rose was on the bench for Chicago's last game, it doesn't mean he'll be with his teammates for the rest of the way.
"He may not even be out there all the time," the coach continued. "If he wants to come out, great. If he doesn't, that's fine, too. Again, his focus has to be on the rehab. The team has to focus on our improvement and our next game. So at some point he'll be ready to go."
Thibodeau may not care if the former MVP is on the bench, but the Bulls players seemed to appreciate it. Jimmy Butler said it was very helpful to have Rose sitting courtside.
"It was great because he sees things that a lot of guys don't see -- being a point guard and being there watching the game," Butler explained. "It definitely helps to have him in your ear, have him on your side and pushing because he's still giving his energy and his say-so from the sideline."
While Rose may have made an impact on the bench, he would help the Bulls a lot more on the court. Rose has said that he won't return until he's "110 percent" healthy, but Chicago is struggling without their starting point guard. The Bulls are just 6-8 in their last 14 games, and are tied with the Brooklyn Nets for the fifth seed in the East.
Chicago has 22 games remaining on their 2013 schedule. The playoffs are set to get underway on April 20.
© Copyright IBTimes 2023. All rights reserved.