Detroit Lions Vs. Cleveland Browns: Prediction, Betting Odds, Preview, TV Channel, Where To Watch Online Stream, And Team News For Sunday's NFL Game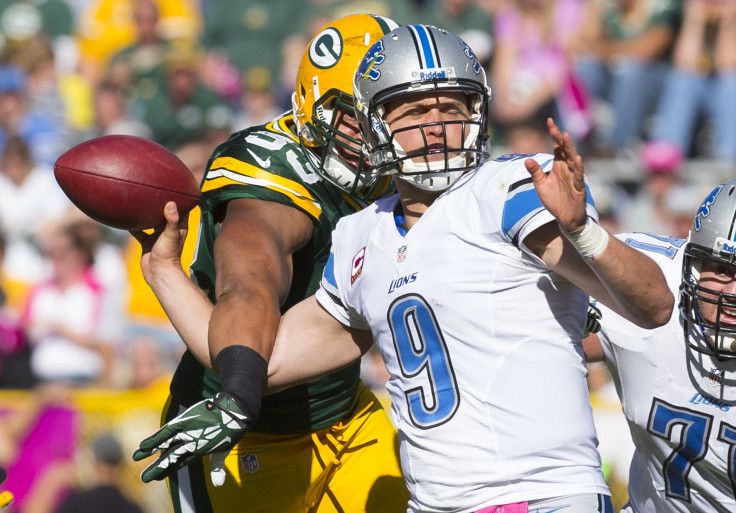 Detroit Lions wide receiver Calvin Johnson's status remains a game-time decision for Sunday's road matchup with the hot, first-place Cleveland Browns at FirstEnergy Stadium.
The record-holder for most receiving yards in a single season, Johnson is battling a knee injury and is currently listed as questionable. A seven-year veteran, Johnson has 21 catches for 312 yards and four touchdowns this season, and hasn't missed two games in the same year since 2009.
Cleveland has won its last three games, the last two by almost two touchdowns each, but lost upstart quarterback Brian Hoyer to a season-ending knee injury in the 37-24 win over Buffalo. Recovered from a sprained thumb, Brandon Weeden came in for Hoyer and went 13-for-24 for 197 yards and a touchdown, and running back Willis McGahee made his debut with 72 yards and a touchdown on 26 carries.
Weeden will get the start, and reportedly is using the doubts fans and media have voiced as motivation.
"I've never really been in a situation where I've been doubted like this – and it lights a fire, motivates me to get into this building before anybody, study at night more than anybody because I want to prove everybody wrong,'' Weeden said to USA TODAY Sports. "I want to prove to everybody that I can be the guy to lead this franchise to the places we want to go."
Weeden would be wise to seek out tight end Jordan Cameron, who has caught four of his five touchdowns during Cleveland's streak and is eighth in the NFL with 33 receptions.
Defensive back T.J. Ward capped the Browns victory with a 44-yard interception return, and the Browns are now fourth in total defense, allowing 301.8 yards a game.
With Johnson's status in doubt, the Lions offense could stall for a second straight game. Detroit extended its two decade road losing streak to Green Bay with a 22-9 loss in Week Five. Matthew Stafford went 25-for-40 for 262 yards and a touchdown, and running back Reggie Bush gained 44 yards.
Stafford was sacked five times, which was alarming for an offensive line since that had let up just three sacks in the previous four games. The Lions are tied for third for the fewest sacks allowed in the league.
Concussions have also hurt the Lions offense, with tight end Tony Scheffler and reserve running back Theo Riddick listed as out.
Coverage of the game starts at 1 p.m. ET and will be broadcast by FOX, or watch a live online stream by purchasing NFL Game Access here.
Betting Odds: Detroit is favored by 3 points.
Over/Under: 43.5 points.
Prediction: Detroit 20, Cleveland 17
© Copyright IBTimes 2023. All rights reserved.