'Devious Maids' Season 3 Spoilers: Who Died In The Premiere? Shocking Death Revealed In Episode 1 [RECAP]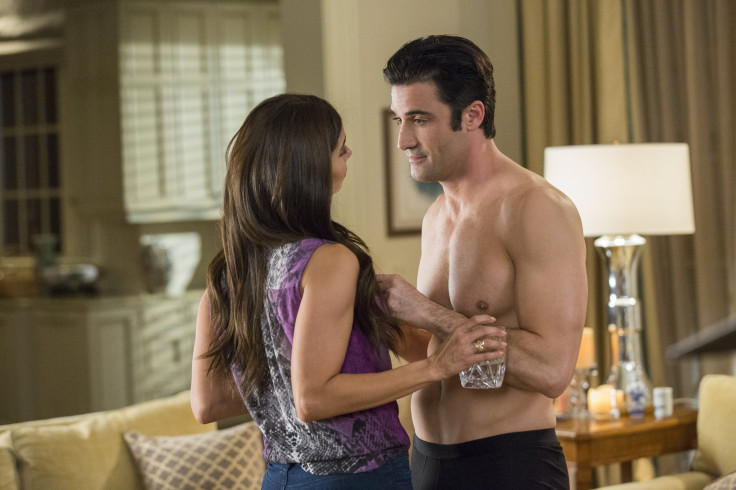 Drive-bys, baby daddy drama, Naya Rivera -- what more could you ask for in a premiere episode? "Devious Maids" returned to TV with a bang (literally) when the hit Lifetime series, created by Marc Cherry, aired its anticipated third season. And we have to admit, episode 1 was filled with more jaw-dropping moments than we were expecting! Check out all the wild moments from "Awakenings" below:
Who Was Killed In Drive-By Shooting?
When Season 2 concluded, it was teased that someone had fallen victim to Ty's (Gideon Glick) rogue shooting, which was intended for Valentina (Edy Ganem). But it wasn't until the Season 3 premiere of "Devious Maids" that we find out which attendees of Rosie (Dania Ramirez) and Spence's (Grant Show) wedding had been hit. Unfortunately three characters from the series became Ty's target practice: Pablo (Alex Fernandez), the priest and the bride. But ultimately, it is Pablo who meets his demise.

When Rosie wakes up in the hospital surrounded by her friends in the premiere episode, she panics that she's going to miss her honeymoon. That's when Marisol (Ana Ortiz) breaks the shocking news to her friend that she's been in a coma for four months, which means her post-wedding plans are long gone.
Michael (Brett Cullen) and Taylor (Brianna Brown) make their return to Beverly Hills -- with a daughter! But something was a little off about the young, quiet girl who Evelyn (Rebecca Wisocky) refers to as a mute.

Before viewers learn the dark storyline of little Katy, they are introduced to Blanca (Naya Rivera), a recently fired maid who is pursuing an education. Blanca divulged to her fellow maids the struggles she's faced since getting fired, which is when Marisol steps in, revealing that a wealthy family she used to work for has made their return to the area. She promises that they are a decent family, which is why Blanca accepts the gig. However, the new maid learns she's in over her head when she discovers she can't clean up the disturbing skeletons in the Stappord's closet.
Murder And A Mysterious Severed Leg
Audiences could sense tension between Mr. and Mrs. Stappord -- especially when they discussed their daughter. But it wasn't until Katy admits to Blanca that both she and her mom don't like Michael that it clicked there was more to their storyline than was being revealed. That is, until the final scene.

Blanca enters the Stappord's home in the final moment of episode 1 to drop off her belongings, which is when she catches Taylor in a frenzy. The Beverly Hills wife says she's in the middle of cleaning something. That's when Blanca offers to lend a hand and a broom. However, the mess Blanca finds looks more like a murder scene -- and that's because, well it is one. The maid terrifyingly asks what happened, which is when cameras cut to the cunning little girl. Did Katy kill her father?

Whoever is responsible for the murder may also be involved in the severed leg Evelyn finds in her award-winning rose garden.
Zoila (Judy Reyes) learns who the father of her unborn child is in the Season 3 premiere of "Devious Maids." And unfortunately for Zoila/Javier (Ivan Hernandez) shippers, the biological father of the baby is Pablo, who was killed in the shooting. Zoila initially decides to tell Jav the truth but Genevieve (Velma Mudge) rebuts that although it's an admirable move, it's also stupid considering it could break Javier's heart and be a reason for him to leave her.
So what does Zoila ultimately decide to do? After announcing her pregnancy to her beloved beau and watching his gleeful reaction to her baby bump, she decides to keep the truth hidden from Javier. Now viewers wait to see when her lie will decide to bite her in the, well … you know.
Viewers watched as Marisol and Carmen (Roselyn Sanchez) butt heads throughout the premiere episode. After exchanging a few choice words regarding the betrayal of friends (Marisol was spending most her time with Beverly Hill's elite since her book's success) and low standards (Carmen was sleeping with a married man), the two discovered that they were only looking out for the other.

Ramirez previously revealed to "Good Day LA" that Season 3 was going to focus around the theme of friendships of our favorite maids.

"This season more than any other season is about the friendships, love and really being there for one another," the actress admitted.
After Rosie wakes up, she finds out what her husband has been doing to keep his family financially afloat -- and she's not happy about it. Apparently Spence has been dabbling in softcore porn, which Rosie finds "humiliating."
"I wasn't actually having sex! You think I wanted to make that movie? It's the only job I could find," the actor says to his wife, explaining that he did what he had to in order to provide for his family. After putting their situation into perspective, Rosie says she understands, adding that if he decides to star in a sequel it'll be Spence who ends up in a coma next.
What did you think of the Season 3 premiere of "Devious Maids"? Sound off in the comments section below with your thoughts and don't forget to tune in to the Lifetime series on Mondays at 9 p.m. EDT.
© Copyright IBTimes 2023. All rights reserved.