Dez Bryant Injury Update: Could Cowboys Sit WR For Rest Of 2015 Season?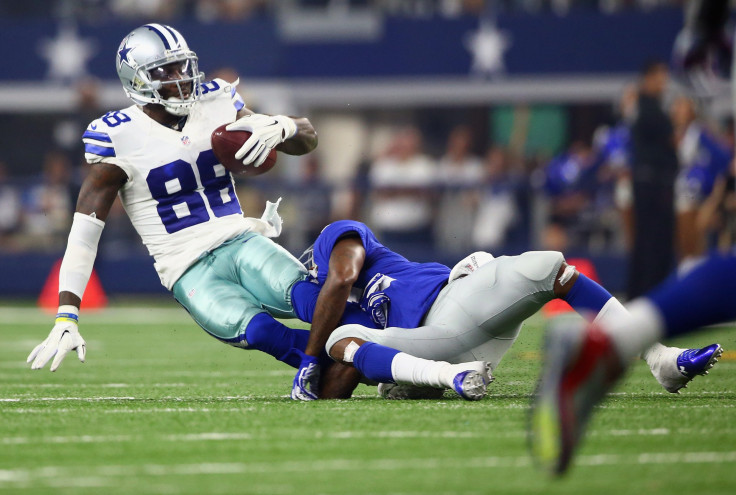 Dallas Cowboys receiver Dez Bryant can protest and call out members of the media for their reporting of his foot injury on Twitter as much as he wants, but it stands to reason that the All-Pro won't return until Week 11 of Dallas' campaign at the earliest.
Bryant suffered a broken metatarsal in his right foot during Dallas' Week 1 comeback victory over the rival New York Giants, and underwent surgery a day later with a reported recovery time of 10 to 12 weeks. According to NFL.com, the Cowboys originally expected Bryant to sit out four to six weeks, but because his surgery required a bone graft and was diagnosed as a Jones' fracture the recovery time was upped to a soft maximum of three months.
The 26-year-old, who inked a five-year, $70-million contract extension with $45 million guaranteed before training camp, didn't respond well to the reports about his extended recovery.
Bryant would also use Twitter to support his teammates during Week 2's 20-10 victory over the Philadelphia Eagles, which put Dallas at 2-0 and in sole position of first-place in the NFC East.
It's unclear if Bryant truly understands the scope of his injury. Bryant's incredible athleticism, speed, and playmaking ability all start with his superb footwork and route running, all of which will be affected by his broken foot and will need a significant amount of time to completely return.
The kind of pressure Bryant requires to put on that foot is a big reason why the Cowboys and head coach Jason Garrett won't rush Bryant back to the field until he's completely healthy, even though Bryant was counted on for at least 1,200 yards and 12 touchdowns over the last three seasons.
One of the more high-profile examples of recent memory actually comes from the NBA. Oklahoma City Thunder forward and former MVP Kevin Durant battled a Jones' fracture in his right foot last season, and ultimately required a bone graft as well.
Durant was injured in the preseason and missed the Thunder's first 17 games, but returned roughly two weeks earlier than projected. However, he was in and out of Oklahoma City's lineup for the rest of the season, and required another minor surgery after the All-Star break to relieve soreness in the foot. But Durant never regrouped and opted to sit out the rest of the Thunder's season back in March to recover from a surgery that would lay him up for four to six months.
Based off reports and estimations, Bryant's injury doesn't appear to be nearly as dire as Durant's was and the strains of football and basketball are much different, but it's a cautionary tale for the Cowboys to follow. Dallas won't risk Bryant's long-term future after investing so much time and money into the two-time Pro Bowler.
Should Bryant completely heal by Week 11, when the Cowboys hit the road to face the Miami Dolphins on Nov. 22, Dallas could be out of contention in the NFC East or the postseason altogether with quarterback Tony Romo on the shelf for roughly the next eight weeks with a fractured left clavicle.
Before the season began, the Cowboys were projected to have the ninth-easiest schedule in the league. But with both Romo and Bryant expected to be out for more than half the season, and unproven back-up quarterback Brandon Weeden filling in, Dallas could stumble in Week 3's matchup with the undefeated Atlanta Falcons, in Week 5 against defending champion New England, or even Week 8's date with Seattle. Dallas also has two difficult division matchups at the Giants in Week 7, and home against Philadelphia in Week 9.
If the playoffs are out of the question, Dallas could pull Bryant out for the rest of the season and plan ahead for 2016.
© Copyright IBTimes 2023. All rights reserved.