Dick Gregory Quotes: Legendary Comedian And Civil Rights Activist, Dead At 84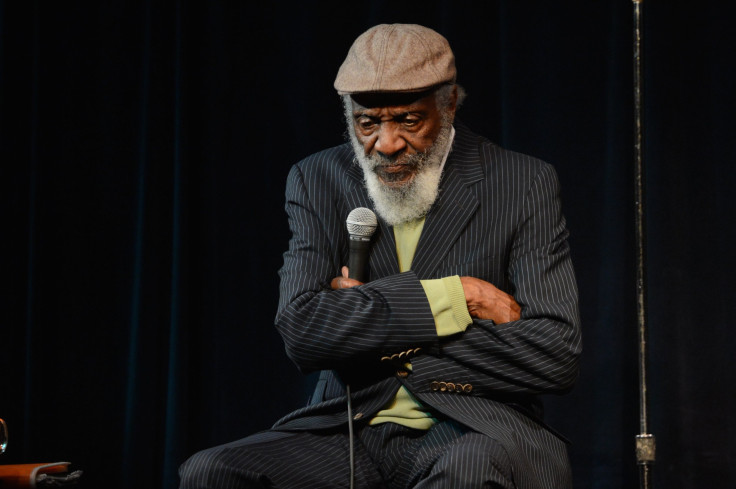 Dick Gregory, the comic legend and civil rights activist died Saturday at the age of 84 in Washington D.C.
His son announced the news on Instagram saying: "It is with enormous sadness that the Gregory family confirms that their father, comedic legend and civil rights activist Mr. Dick Gregory departed this earth tonight in Washington, D.C."
"My father, Dick Gregory remains hospitalized with a serious but stable medical condition. His prognosis is excellent and he should be released within the next few days," Christian had written on Thursday in an Instagram post.
Gregory was born in St. Louis on Oct. 12, 1932, and first started performing as a stand-up comedian in the Army in the 1950s. His first major break came in 1961 when he was noticed by Playboy founder Hugh Hefner while he was performing at the Roberts Show Bar in Chicago.
To remember the legendary comedian, here are some of his inspirational sayings, collected from Brainy Quote, AZquotes, Goodreads and Inspiring quotes.
"Political promises are much like marriage vows. They are made at the beginning of the relationship between candidate and voter, but are quickly forgotten."
"If all you can do is judge a person by their appearance because you don't have the spirit to judge someone from within, you're in trouble."
"No kid in the world, no woman in the world should ever raise a hand against a no-good daddy. That's already been taken care of: A Man Who Destroys His Own Home Shall Inherit the Wind."
"Last time I was down South I walked into this restaurant, and this white waitress came up to me and said: 'We don't serve colored people here.' "I said: 'that's all right, I don't eat colored people. Bring me a whole fried chicken."
"Let me tell you, never before in the history of this planet has anybody made the progress that African-Americans have made in a 30-year period, in spite of many black folks and white folks lying to one another."
"I went to Ethiopia, and it dawned on me that you can tell a starving, malnourished person because they've got a bloated belly and a bald head. And I realized that if you come through any American airport and see businessmen running through with bloated bellies and bald heads, that's malnutrition, too."
"I believe young voters will either vote for Obama or not vote at all. So the problem is not Obama the problem is the system. If you think about how mess up this country is, most folk really don't have choices."
"Revolution ain't nothing but an extent of evolution; Evolution is a fact of nature. So when old folks tell me that they don't understand hip hop and the music is too loud, well I guess it means you're not supposed to be in there."
"The world is fed by greed."
"Because I'm a civil rights activist, I am also an animal rights activist. Animals and humans suffer and die alike. Violence causes the same pain, the same spilling of blood, the same stench of death, the same arrogant, cruel and vicious taking of life. We shouldn't be a part of it."
© Copyright IBTimes 2023. All rights reserved.
FOLLOW MORE IBT NEWS ON THE BELOW CHANNELS