Did BTS V Say The N-Word? Fans Call Out Taehyung For Allegedly Saying Derogatory Term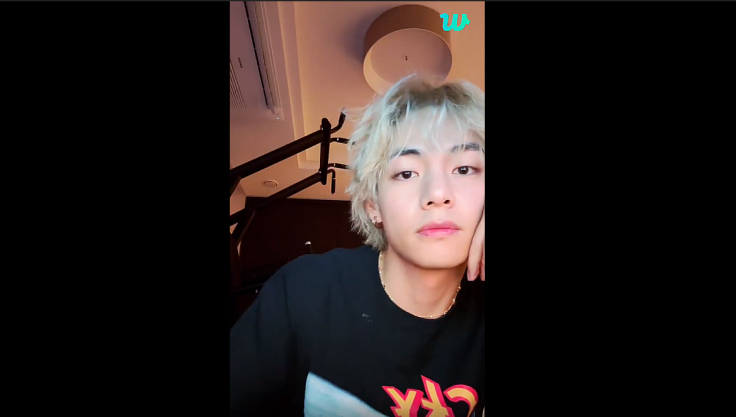 KEY POINTS
BTS member V recently went live on Weverse to interact with fans
While vibing to "RIOT," fans believed he mouthed the "n-word" in the lyrics
ARMYs are now debating whether or not he actually mouthed the word
Some ARMYs are disappointed with BTS member V after he allegedly mouthed the "n-word" during his recent livestream.
On Monday, the 27-year-old South Korean artist suddenly held a short broadcast on Weverse to interact with fans — known as ARMYs — while he vibed to several American rap songs, such as "Beat The P***y Up" by Young Jeezy, YG, T.I., and A$AP Rocky's "RIOT."
But while V — real name Kim Taehyung — was singing along to "RIOT," his alleged actions appeared to have offended some fans, who claimed that he actually said the derogatory term, which was part of the song's lyrics that read, "We grow, we learn. Py n—a tired. How 'bout you try it?"
Clips of him allegedly mouthing the word have since circulated online, most notably on Twitter, prompting a debate among ARMYs. While most came to the "Christmas Tree" singer's defense, others called him out and claimed he should be "held accountable" for his actions.
"Not Taehyung saying the 'n-word,'" one user wrote on Twitter, attaching a video of V vibing to "RIOT." In the video, he appeared to be mouthing the lyrics. But when it came to the derogatory term, it was unclear if he mouthed it or took a pause.
Another commented on the video, "So this the beginning of the clip, so he was just saying it throughout the entire song, and everyone just [going to pretend] he didn't."
"He really moved his mouth to those lyrics TWICE, and his fans are still making excuses. Like he said it, move on," a third user stated, reacting to the video shared by @Chaesoofacts.
"He said n—a [I don't know] why [you all] jumping around to defend him. Have some basic decency," a fourth user opined.
Meanwhile, another user defended V, writing, "[You] literally hear him pause and then continue saying the next lyric and skipping the word AGAIN." A sixth user wrote, "He didn't say it. [The f—k] are [you] on about. Stop [trying] to set him up."
"[To be honest] it's hard to tell, but it looks like he just nodded with his mouth open," a different user observed.
"Y'all can try too hard as you want, he'll not be [canceled]. The lyrics are 'On a pvssy*** tires' He's mouthing these words and [skipping] the 'n-word.' You're not even black to speak over them. Tae [has been] vibing to rap songs [since] forever, and he always skipped that word," an eighth user claimed.
As of late, V and his longtime label, BigHit Music, have yet to address the controversy. But the livestream is still available on Weverse.
© Copyright IBTimes 2023. All rights reserved.