Disney: Disabled Visitors Will No Longer Be Able To Skip Lines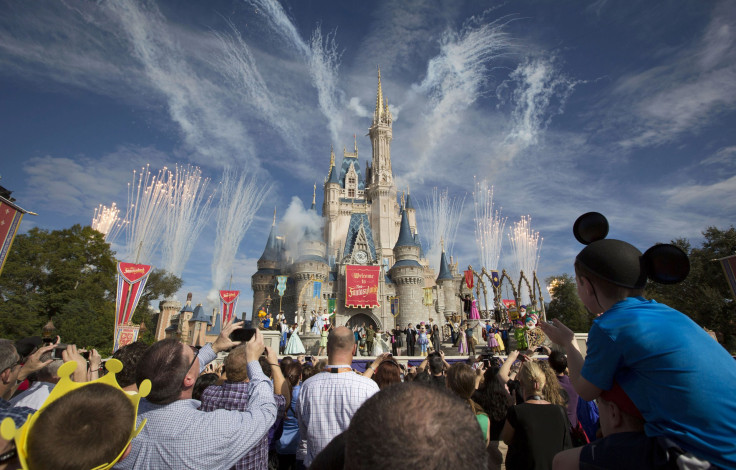 Disney Parks confirmed this week that it would cancel its 10-year-old Guest Assistance Card program for visitors with disabilities on Oct. 9 due to rampant abuse. In its place, the theme park giant will install a new program called the Disabled Assistance System, which will work similar to the FastPass at popular rides, but will not allow disabled guests to skip lines altogether.
In the Spring, Disney Parks said it was investigating reports that a handful of deep-pocketed families had paid disabled "black market" guides as much as $130 an hour to pose as a family member and usher them through the lines at the Florida resort.
"My daughter waited one minute to get on 'It's a Small World' -- the other kids had to wait 2.5 hours," one Manhattan mom bragged to the New York Post. "You can't go to Disney without a tour concierge. This is how the 1 percent does Disney."
Social anthropologist Wednesday Martin tipped the Post off to the story, and went on to appear on CNN's "Starting Point" and other programs promoting her upcoming book about New York's Park Avenue elite. The attention noticeably embarrassed Disney officials, who promised to look into the matter and implement any necessary changes.
Disney Parks' current policy in both California and Florida allows any guest who needs a wheelchair or motorized scooter to bring up to six friends or family members to the special convenience entrance. The mom quoted in the Post story, for example, said she hired a guide to escort her family around the park in a motorized scooter with a "handicapped" sign so they could go straight to an auxiliary entrance for each ride, effectively jumping the queues.
Beginning next month, however, the parks will issue visitors a new disability card with a specific time to enter an attraction, based on the current wait time. While they still won't have to linger in any long lines, visitors with disabilities will no longer be able to simply skip the queue, and could face potentially troublesome wait times elsewhere in the park.
Surprisingly, no proof of disability is required under either the old or new system. Disney explained that it's limited in the amount of information it can ask visitors under confidentiality laws.
"We have an unwavering commitment to making our parks accessible to all guests," Disney spokeswoman Suzi Brown said. "Given the increasing volume of requests we receive for special access to our attractions, we are changing our process to create a more consistent experience for all our guests while providing accommodations for guests with disabilities. We engaged disability groups, such as Autism Speaks, to develop this new process, which is in line with the rest of our industry."
Disney Parks said it would offer more information about the new disability cards after all staff members had been briefed on the rules. Yet, news of the change in policy has already rankled many in the blogosphere.
"Disney is a powerhouse. Disney is a trailblazer. When Disney does something, other corporations and establishments sit up and take notice," Jo Ashline wrote on the blog Special Needs Orange County. "And so, if Disney implements a program that may turn out to exclude a particular special needs demographic due to their very specific needs, where will that leave us with other, lesser known companies that aren't as likely to be scrutinized by society's microscope? What will they end up getting away with?"
One petition asking Disney executives to reconsider their policy change has already generated more than 21,000 signatures on MoveOn.org. Its creator, Kim McClain, said her daughter, like many other children and adults with cognitive, sensory, social and emotional or physical challenges, "does not have the capacity or ability to endure the waits required in the midst of sensory stimuli" at Disney.
"This change will literally make it impossible for some families to visit or to enjoy a stay at the parks," she explained. "The Guest Assistance Pass … is not a privilege for challenged families. Rather, it is simply an accommodation to provide access to the park for those who otherwise would not be able to enjoy the park. If you remove this accommodation, you will undoubtedly remove the ability for many to access and enjoy the park, excluding an impaired segment of the population due to the misconduct of others."
The organization Autism Speaks, meanwhile, issued a statement noting that there had been "some misinformation involving Disneyland's Guest Assistance Card program." The New York-based advocacy group said it was working together with Disney Parks on the new initiative and would update concerned families "soon."
© Copyright IBTimes 2023. All rights reserved.