Does Ted Cruz Speak Spanish? Marco Rubio Targets Texas Senator During Heated Immigration Debate Exchange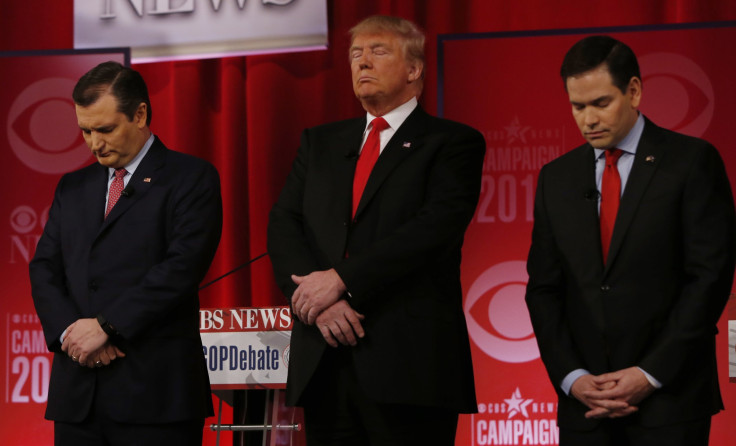 During a heated exchange Saturday night between Texas Sen. Ted Cruz and Florida Sen. Marco Rubio on the topic of immigration, the two blamed each other for changing their respective stances on offering undocumented immigrants amnesty in the U.S. After each pointed their finger at one another, Cruz claimed Rubio went on a Spanish-speaking TV channel and effectively offered his support for President Barack Obama's executive orders that would offer a path to citizenship for millions of undocumented immigrants in the U.S.
"Marco went on Univision in Spanish and said he would not rescind," Obama's proposed immigration policies, Cruz said during the second half of the debate. "I have promised to rescind every single executive action including that one."
Rubio, in turn, asked how Cruz would know what he said. "He doesn't even speak Spanish," Rubio said in apparent jab at Cruz's Cuban heritage, something that the Texas senator has touted in making his appeal to Hispanic voters.
After presidential primaries in Iowa and New Hampshire, two states that are all but devoid of Latino voters, many see South Carolina as the first chance for that coveted voting bloc to have their voices on the presidential race.
Cruz responded by rattling off a sentence or two in Spanish.
The Texas senator offered his condolences to the family of U.S. Supreme Court Associate Justice Antonin Scalia, who was found dead earlier in the day at a ranch in the state Cruz represents. But, like many in his Party, Cruz also used Scalia's death as an opportunity to politicize the news, insisting that the judge's successor not be named until after the next president has been elected.
Obama, in speaking shortly before the debate's scheduled start, indicated that he likely intended to seek out a replacement for Scalia, citing the country's democracy and constitution, saying in part that he would like to make sure the Supreme Court "continues to function as the beacon of justice that our forefathers intended."
"I plan to fulfill my constitutional responsibilities to nominate a successor in due time," the president said from California, according to Politico. "And there will be plenty of time for me to do so and for the Senate to fulfill its responsibility to give that person a fair hearing and a timely vote."
Cruz also offered a separate statement of bereavement that he posted to his Facebook page, including the below portion.
As liberals and conservatives alike would agree, through his powerful and persuasive opinions, Justice Scalia fundamentally changed how courts interpret the Constitution and statutes, returning the focus to the original meaning of the text after decades of judicial activism. And he authored some of the most important decisions ever, including District of Columbia v. Heller, which recognized our fundamental right under the Second Amendment to keep and bear arms. He was an unrelenting defender of religious liberty, free speech, federalism, the constitutional separation of powers, and private property rights. All liberty-loving Americans should be in mourning.
Scalia's death may have been a welcome distraction for the Cruz campaign, which has come under fire from GOP presidential polling leader and real estate mogul Donald Trump, who threatened Friday to sue the Texas senator over his eligibility to become president based on Cruz's birthplace of Canada. Some legal experts have said that Trump's claim may not be able to stand up in a court of law.
"I happen to think that the best arguments on the merits support Cruz's eligibility, but even apart from that, I just don't see courts intervening on this sort of thing," Jonathan Adler, a constitutional law professor at Case Western Reserve University, told Time.
Cruz also may have a problem when it comes to endorsements, as three newspapers in his home state have opted to offer their support to other candidates. The Houston Chronicle went so far as to denounce Cruz's candidacy based on the politician's time in the senate:
During his brief time in office, Ted Cruz has become the most ineffectual, inattentive U.S. senator Texans have sent to Washington since perhaps W. Lee "Pass the Biscuits, Pappy" O'Daniel during the 1940s. Unlike the old flour man from Fort Worth, whip-smart Cruz has been willfully ineffectual. His predecessor, Kay Bailey Hutchison, recognized that her primary obligation as a U.S. senator was to serve the people of Texas; Cruz, the embodiment of the hard right, wears his disdain for government as a badge of honor.
In addition, Cruz's campaign was forced to pull one of its most recent advertisements after it was revealed on of its co-stars was an actress in softcore pornography films.
© Copyright IBTimes 2023. All rights reserved.