Does Valentine's Day Google Doodle Reveal Company Support of Gay Marriage?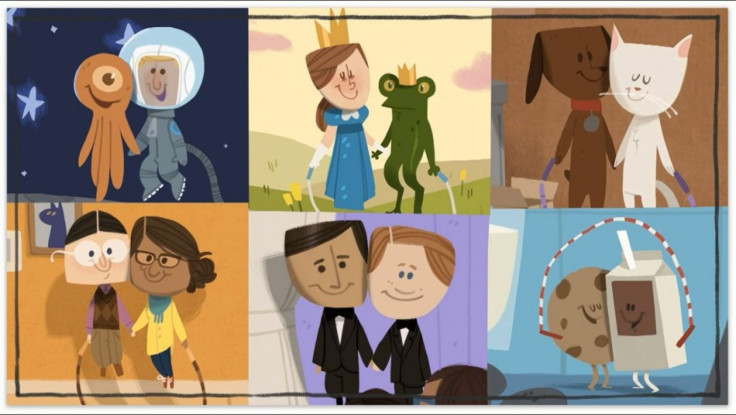 Google celebrates holidays in the only way it knows how--by creating a quirky, occasionally cute Google Doodle. This Valentine's Day was no different. Google create a short love story for today's holiday, which they placed right where the logo typically sits on their homepage.
But hidden in the video was a subtle message about the company's stance on gay marriage. See if you can spot it in the photo on the left-hand side.
Catch it?
It's the image of two men--albeit, cartoon characters--dressed in tuxedos, holding hands and showing their love for each other.
Next to image of two male lovers, which is front and center, is a picture of two women, both of whom are holding each other's hands, also showing displaying another form of love.
Aside from the gay and lesbian lovers, there are no other humans represented in the mosaic of images representing love. Milk and cookies; cats and dogs; a princess and a frog; and a spaceman and an alien all show their love for each other.
This all happens to the song Cold, Cold Heart performed by Tony Bennett.
The mosaic appears after a short story of a man trying to win a woman's is told without words or narration.
The man brings a woman flowers and several other items, but she remains uninterested and continues to jump rope. Eventually, the man brings a jump rope and jumps beside her. The woman is moved, drops her jump rope, and runs up to the man and hugs him. They begin jumping rope together.
At the end, Google shows several forms of love--including the gay and lesbian couples--before cutting away to their logo. Though the Easter Egg is quick, it appears to be a deliberate nod to their political leanings. All love is welcome in the Google universe.
© Copyright IBTimes 2023. All rights reserved.
FOLLOW MORE IBT NEWS ON THE BELOW CHANNELS