Donald Trump Assassination And 'Rape Melania' Trend On Twitter After Republican Wins White House Bid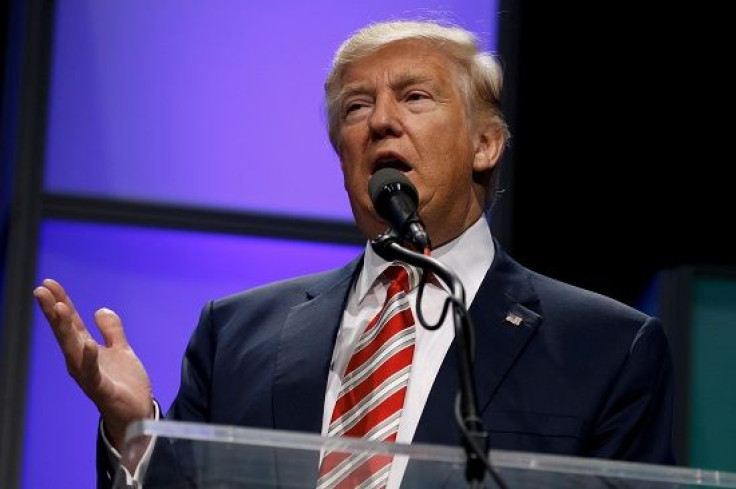 Since his win as the next president of the United States, Donald Trump has received several assassination threats from people who do not support his presidency. Over the weekend, social media users called for the assassination of the president-elect after what many deemed shocking election results.
The hashtag #AssassinateTrump began to trend over the weekend. "Trump chose the literal worst case scenario as VP so nobody would try to impeach or assassinate him," one Twitter user wrote. "Twitter lets #AssassinateTrump TREND but if Clinton won, they would automatically terminate your account if you tweeted #AssassinateClinton," wrote another user.
The recent threats are not the first time Trump has been in danger. A 20-year-old man named Michael Steven Sandford attempted to assassinate Trump in June when he was the Republican nominee, the Washington Post reported. The man was a British citizen who tried to pull a gun from the holster of a police officer during a Las Vegas Trump rally. Sandford reportedly told the Secret Service that he was plotting to kill Trump for a year.
On Nov. 5, Trump was rushed off of the stage during a rally in Nevada when someone in the crowd shouted "gun," the Washington Post reported. The Secret Service later reported that "an unidentified individual shouted 'gun.'" The accused man was later released as no weapons were found on him.
The president-elect is not the only one receiving threats. "Rape Melania" began to trend on Twitter Sunday after a protestor outside of the Trump Tower in New York City held a sign that read the controversial words. Many were upset over the sign and voiced their opinions via social media.
"I'm at a loss for words that #rapemelania is trending. Society has hit an all time low," one Twitter user wrote."
"I just saw that Rape Melania is trending This week, many tweets talked about killing Trump More reminders that Love Trumps Hate is a lie," another user wrote.
Despite the tweets, the Secret Service did not comment on how they would handle the threats. "The Secret Service does not provide information regarding protective services," Secret Service spokesperson Nicole Mainor said.
Trump doesn't seem worried. Over the weekend, he tweeted, "This will prove to be a great time in the lives of ALL Americans. We will unite and we will win, win, win!"
© Copyright IBTimes 2023. All rights reserved.