Donald Trump Calls Himself 'America's Greatest President'; Twitter Users Say Moniker Is For Obama
KEY POINTS
Donald Trump proudly calls himself America's Greatest President
Barack Obama's supporters think he's America's Greatest President
Donald Trump's impeachment trial is still ongoing
Donald Trump is known for being extremely confident, but some critics are convinced that the POTUS is simply obnoxious.
This past weekend, the Senate's vote to call witnesses in Trump's ongoing impeachment trial failed, and Melania Trump's husband couldn't help but celebrate.
On Saturday, Trump penned a cryptic tweet, where he shared his thoughts with his millions of followers. The president initially posted about the high poll numbers, which are his highest since the 2016 elections.
Shortly after, the POTUS praised Lou Dobbs after the latter tweeted about his show being number 1 for 49 months in a row on Fox Business Network. According to Trump, Dobbs has been receiving top ratings because he covers the president in a fair manner.
"Congratulations to @loudobbs, Number One. Lou has shown the Fake News what happens when you cover 'America's Greatest President' fairly & objectively!" Trump wrote.
However, some critics couldn't help but mock the POTUS for calling himself America's Greatest President. Some of them also said that the moniker could belong to former President Barack Obama but not to Barron Trump's father.
Other critics couldn't help but slam Trump's use of the English language. They said that someone needs to teach the POTUS on how to use the words fairly and objectively correctly.
Twitter user @mmpadellan revealed all of the qualifications of America's Greatest President which included a photo of Obama.
"America's Greatest President: won both the electoral and popular vote twice, did it without foreign help, didn't have to extort anyone, wasn't impeached, can spell basic words, still faithfully married to his first and only wife, is a trillion times better than you," he wrote.
Twitter users @nancylevine and @Strandjunker also uploaded photos of Michelle Obama's husband as America's Greatest President.
Twitter user @Donz0 also uploaded side-by-side photos of Trump and Obama with brief descriptions. Obama is described as "Amazing Grace," while Trump is described as a "National Disgrace."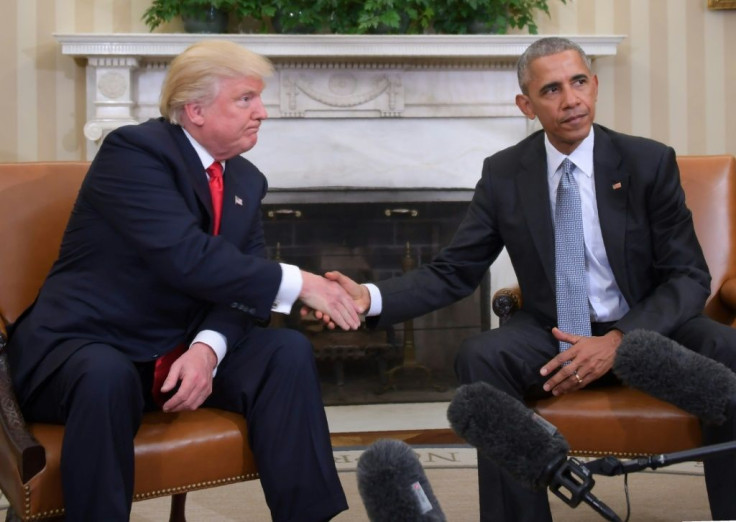 © Copyright IBTimes 2023. All rights reserved.