Is Donald Trump A Democrat? Jeb Bush Fires Latest Attack In Twitter War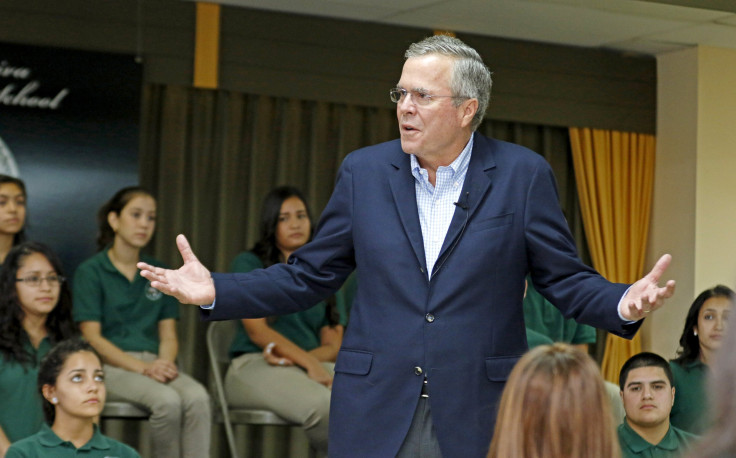 The fight between former Florida Gov. Jeb Bush and real estate mogul Donald Trump is getting nastier by the day, and September is already looking tense. Bush released a scathing new advertisement Tuesday that looked to paint Trump, using his own past statements, as a Democrat in Republican clothing.
"I lived in New York City and Manhattan all my life, so my views are a little bit different than if I lived in Iowa," the video showed Trump saying in a 1999 "Meet the Press" interview, a clear attempt by Bush to paint the businessman as an insincere big-city guy to rural Iowa voters. The posting is the latest in a fight between the candidates that has only been heating up.
As of noon Tuesday, Bush had tweeted four times. Three of those tweets were attacks on Trump's party affiliation. One was a picture of Trump's signature congratulating House Minority Leader Nancy Pelosi, a Democrat, after she took over as speaker of the house in 2009. Another was the ad mentioned. Another simply asked why The Donald is a Republican: "The answer is, you're not," it read. It was the first time the Republican presidential hopeful had mentioned his opponent since Aug. 25.
The attacks follow one posted by Trump on Monday. Trump's ad played audio of Bush calling immigration an "act of love" while photos of undocumented immigrants who later killed people in the United States were displayed. In his comment, Bush was referring to the reason why immigrants move to the country illegally. He has stood by his comment, saying he's committed to securing the border.
The ad, as Mother Jones pointed out, has a lot of similarities with the famous "Willie Horton" advertisement of the 1988 election season in which Bush's father, President George H.W. Bush, attacked Massachusetts Gov. Michael Dukakis for allowing a first-degree murderer to leave prison with a weekend pass. On one of those leaves, Horton repeatedly raped a woman and stabbed her fiancé before stealing their car.
The ads come just over two weeks before the second Republican debate, which will focus on foreign policy. Bush has fallen dramatically in national polls since he was the front-runner in mid-July, though it wasn't until a somewhat lukewarm performance in the first debate, Aug. 6, that pundits really began to question his viability. He's currently in third place at 9.5 percent of national voters -- far behind front-runner Trump at 26.5 percent and 2.5 points behind retired neurosurgeon Ben Carson.
Trump has shot up in early primary and caucus states Iowa and New Hampshire. In Iowa, he currently is at 23.3 percent of the vote, and in New Hampshire, he's at 28.3 percent, according to averages of polls in the states.
Follow me on Twitter: @ClarkMindock
© Copyright IBTimes 2023. All rights reserved.