Donald Trump Explains Megyn Kelly 'Blood' Comment After Public Outcry, RedState Ban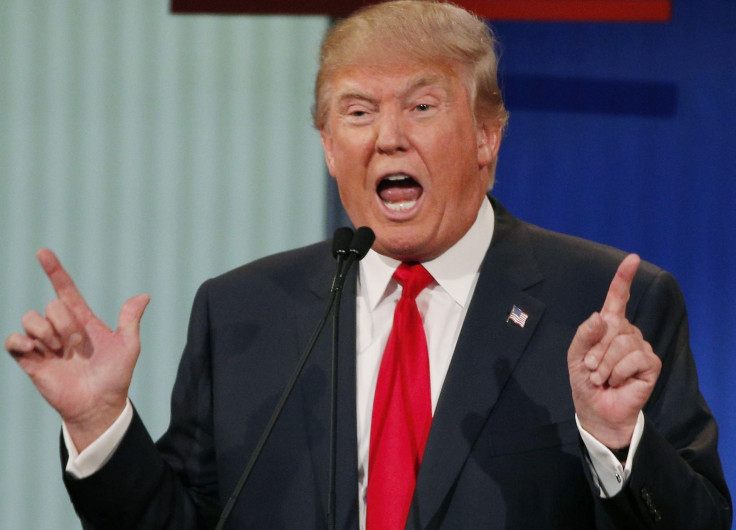 UPDATE 3:55 p.m. EDT: Roger Stone, Donald Trump's former political adviser, said Saturday he chose to part ways with Trump, not the other way around.
UPDATE 2:13 p.m. EDT: Donald Trump fired longtime adviser Roger Stone by email Friday, the Washington Post reported. Separately, the Trump campaign further addressed his comments about Megyn Kelly and criticized RedState.com editor Erick Erickson in a statement to USA Today. The statement is included below.
"Mr. Trump made Megyn Kelly look really bad — she was a mess with her anger and totally caught off guard. Mr. Trump said "blood was coming out of her eyes and whatever" meaning nose, but wanted to move on to more important topics. Only a deviant would think anything else. This related to the debate, which because of Mr. Trump had 24 million viewers — the biggest in cable news history. According to TIME, Newsmax, Drudge Report, The New York Times, The Washington Post, The Hill and many others, Mr. Trump won the debate.

By the way, the guy (Erick Erickson) who made the decision about RedState called Supreme Court Justice David Souter a "goat [expletive] child molester" and First Lady Michelle Obama a "Marxist Harpy." He was forced to make a humbling apology.

Also, not only is Erick a total loser, he has a history of supporting establishment losers in failed campaigns so it is an honor to be uninvited from his event. Mr. Trump is an outsider and does not fit his agenda.

Many of the 900 people that wanted to hear Mr. Trump speak tonight have been calling and emailing — they are very angry at Erickson and the others that are trying to be so politically correct. To them Mr. Trump says, "We will catch you at another time soon."
Original post:
Republican presidential candidate Donald Trump tweeted Saturday that he was referring to Fox News anchor Megyn Kelly's nose when he said she had "blood coming out of her wherever" during a CNN interview. Trump has repeatedly criticized Kelly since Thursday, when, while co-moderating the GOP primary debate, she questioned Trump about his use of sexist or misogynistic language in the past.
Speaking to CNN's Don Lemon Friday night, Trump called Kelly a "lightweight" and criticized her line of questioning. "You could see there was blood coming out of her eyes, blood coming out of her wherever," Trump said.
Several Republican presidential candidates, including former New York Gov. George Pataki and former Hewlett-Packard CEO Carly Fiorina, rebuked Trump late Friday for his comments toward Kelly. Trump slammed the country's "politically correct fools" Saturday and attempted to clarify the "blood" remark on Twitter.
"Re Megyn Kelly quote: "you could see there was blood coming out of her eyes, blood coming out of her wherever" (NOSE). Just got on w/thought," Trump wrote.
Trump's comments have already had a discernible effect on his presidential campaign. Erick Erickson, editor of the conservative RedState.com, asked Trump not to attend the RedState Gathering in Atlanta this weekend. Trump had signed on to deliver the keynote speech at the conservative event.
"I have tried to give a great deal of latitude to Donald Trump in his run for the Presidency," Erickson wrote on RedState.com. "He is not a professional politician and is known for being a blunt talker. He connects with so much of the anger in the Republican base and is not afraid to be outspoken on a lot of issues. But there are even lines blunt talkers and unprofessional politicians should not cross. Decency is one of those lines."
Trump also addressed his disinvitation from the RedState Gathering.
© Copyright IBTimes 2023. All rights reserved.
FOLLOW MORE IBT NEWS ON THE BELOW CHANNELS