Donald Trump Miss USA Controversy: NBC Says It Disagrees With Trump's Immigration Comments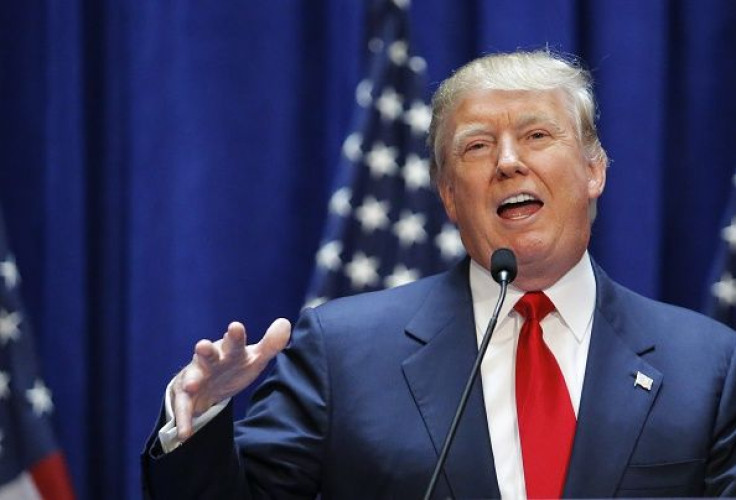 The NBC television network began distancing itself from Donald Trump Thursday as controversy continued to unfold over the presidential candidate's remarks on immigration last week. After Spanish-language broadcaster Univision cut its ties with Trump's Miss Universe Organization, including the airing of the Miss USA beauty pageant, NBC issued its own statement hinting that its broadcast of the July 12 pageant may now be in jeopardy.
"Donald Trump's opinions do not represent those of NBC, and we do not agree with his positions on a number of issues, including his recent comments on immigration," NBC said in a statement Thursday evening.
According to the Hollywood Reporter, NBC is mulling over the future broadcast of the July 12 Miss USA pageant after Univision severed business ties with Trump's organization Thursday afternoon. NBC has aired the Miss USA pageant for the past 12 years.
Earlier Thursday, Trump threatened to sue Univision for its decision to end its business relationship with the Miss Universe Organization, calling their contract "iron-clad" and saying the network had "no termination rights whatsoever," according to Politico.
Trump is still facing fallout over his 45-minute candidacy announcement June 16, in which he pledged to build a wall along the U.S.-Mexico border -- with Mexico footing the bill -- and portrayed Mexican immigrants as criminals. "When Mexico sends its people, they're not sending the best," he said. "They're not sending you, they're sending people that have lots of problems and they're bringing those problems. They're bringing drugs, they're bringing crime. They're bringing rapists. And some, I assume, are good people, but I speak to border guards and they're telling us what we're getting."
He added that Mexico was "beating us economically," and described the United States as a "dumping ground for everybody else's problems."
Univision announced its termination with Trump's business Thursday, saying, "At Univision we see first-hand the work ethic, love for family, strong religious values and the important role Mexican immigrants and the Mexican-Americans have had and will continue to have in building the future of our country." Univision has 4,000 employees, about 80 percent of which are Latino, a fact that prompted the network president and CEO, Randy Falco, to turn away from Trump.
Trump has continued to defend his remarks, however, saying the media "distorted" his comments. "I have many successful business relationships with Mexican companies and employ, and am close friends with, many Mexican people," he told reporters Wednesday.
© Copyright IBTimes 2023. All rights reserved.