Donald Trump Petition Urges NBC To Drop Controversial 'The Apprentice' Host, Should The Network Dump Trump? [POLL]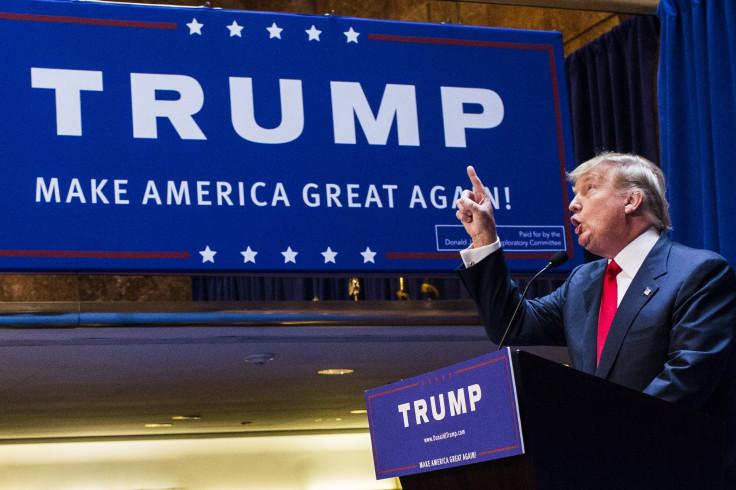 Well, that escalated quickly. Just moments after announcing his bid for the U.S. presidency, Donald Trump dove into hot water after making incendiary comments about Mexicans in his speech. Now his fight with Univision and several Latino organizations have culminated in a boycott and a petition for the "Apprentice" host to be fired from his network home at NBC.
Entertainment Weekly reports the petition urging NBC to cut ties with the Miss Universe and Miss USA producer had more than 200,000 signatures by Sunday afternoon. The Change.org motion had only been up three days before hitting the sizable number. Activists and Latino leaders took issue with Trump's statements on Mexican immigrants, in which he described them as criminals, drug traffickers and rapists.
A number of Latino performers have withdrawn from the July Miss USA pageant. Colombian reggaeton singer J Balvin was the first to dump Trump after his derogatory comments. He told Billboard, "This isn't about being punitive, but about showing leadership through social responsibility. His comments weren't just about Mexicans, but about all Latins in general." Co-host Roselyn Sanchez said (via CBS) she also would resign from the Miss USA event because Trump's "comments were an insult to our culture."
Spanish-language broadcaster Univision announced it would not broadcast the Miss USA competition because of Trump's remarks. The mogul reacted in kind by threatening to sue the broadcaster and by banning Univision employees from his golf course in Florida, near their corporate headquarters, reports Fox News Latino.
NBC distanced itself from Donald Trump's comments, but took no further actions against "The Apprentice" host. "Donald Trump's opinions do not represent those of NBC, and we do not agree with his positions on a number of issues, including his recent comments on immigration," the network said in a statement. NBC still plans on airing the Miss USA pageant on July 12. So far, Trump has been unrepentant about his statements.
Is it time for NBC say "you're fired" and #DumpTrump? Take the poll below:
© Copyright IBTimes 2022. All rights reserved.
FOLLOW MORE IBT NEWS ON THE BELOW CHANNELS