Donald Trump Sparks Dementia Rumors After Claiming 'Genius' Son Barron Just Turned 13
KEY POINTS
Donald Trump talked about Barron Trump during his rally in Las Vegas
Donald Trump called Barron Trump a genius
Donald Trump thinks Barron Trump just turned 13
Donald Trump just sparked all sorts of speculations again after he dropped a surprising claim about his youngest son, Barron Trump.
While at a rally in Las Vegas, the POTUS gushed over his and Melania Trump's only child and called Barron a genius. Trump also shared a hilarious story about Barron trying to ask him to get out of the room because he's playing on the computer.
"I have a son at home, he's 13, he's a genius with computers. 'Hi, Dad, what' up, dad? Dad, get out of here!' Hey listen, I'm the president of the United States, Barron. Don't talk to your dad… 'Dad, come on dad, can't you see I'm playing with my computer?' The guy talks to me, and he's working with his computer," the POTUS said.
However, this isn't the shocking part of what Trump said about his youngest child. He called Barron tall and said that he just turned 13. However, Barron will be turning 14 on March 20.
Trump's shocking statement sparked rumors that he's not really close to his son. If he is, he would know that Barron didn't just turn 13 years old. Some netizens are also convinced that Trump has dementia because he couldn't remember something as simple as his son's age.
"Unbelievable once again he's shown he's the worst parent as well as the worst president. Poor Barron… Trump used to call the press to leak stories about himself as 'John Barron.' What that poor kid must feel," Twitter user @MorganFrawley said.
"Has anybody witnessed Donald Trump speaking to Barron Trump?" Twitter user @stephenlorch said.
"That's pretty sick what you said about Barron Trump. Shame," Twitter user @tonyy7777 said.
"What exactly has Barron Trump offered to the world? He doesn't even show up at the Easter egg roll or Christmas or anything – Greta is doing a great service to the world," Twitter user @sddphoto said.
"What on earth? #Dementia. Unwell," Twitter user @goldscamel said.
"You big, fat, dementia-ridden squirrel, you cannot even tell the truth," Twitter user @suzygidner said.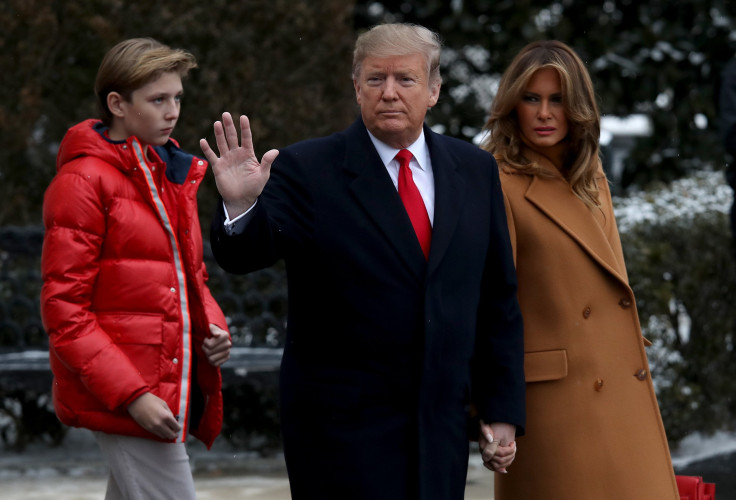 © Copyright IBTimes 2023. All rights reserved.