Donald Trump Town Hall: 5 Top Quotes On COVID-19, White Supremacists And Elections
KEY POINTS
Trump held an NBC News town hall on Thursday after backing out of a planned virtual debate with Biden
The president repeatedly questioned the integrity of the upcoming election
He also said he does not remember whether he was tested for COVID-19 before the first presidential debate
President Donald Trump participated in an NBC News town hall on Thursday, where host Savannah Guthrie fired a series of quick-paced, conversational questions taken directly from voters.
Trump was initially expected to debate Democratic presidential nominee Joe Biden on Thursday. The president backed out after event organizers said the second presidential debate would be held virtually due to his recent coronavirus diagnosis.
The town hall, which was broadcasted at the same time Biden appeared on ABC, presented another chance for Trump to make his case for reelection on Nov. 3. However, Guthrie wasted no time putting the president on the spot and pressing him for answers on controversial issues.
Here are the top five moments of the president's NBC town hall:
On Peaceful Transfer
"Will you accept a peaceful transfer?' And the answer is yes, I will. But I want it to be an honest election, and so does everybody else. When I see thousands of ballots dumped in a garbage can, and they happened to have my name on it, I'm not happy about that."
During the town hall, Trump made a series of claims about "widespread voter fraud," which he believes poses a threat to the election's integrity. He also claimed that "thousands of ballots" from Trump voters were discarded.
His comments echoed ones he has repeatedly made in recent months. However, numerous studies conducted nationwide have yet to reveal evidence of widespread fraud. While there have been isolated cases of postal ballot fraud in 2018 and earlier this year, the rate of voting fraud overall in the U.S. is between 0.00004% and 0.0009%, as reported in a 2017 study by the Brennan Center for Justice.
There is also no evidence that thousands of ballots cast for Trump have been dumped.
Trump also expressed anger as Guthrie repeatedly challenged his remarks. At one point, she stated that FBI Director Christopher Wray had recently affirmed that voting fraud was rare, to which Trump replied: "Oh, really? Then he's not doing a very good job."
On White Supremacists
"I denounced white supremacy for years but you always do it, you always start off with the question, you didn't ask Joe Biden whether or not he denounces Antifa."
Trump denounced white supremacists during Thursday's town hall after refusing to do so during the first presidential debate. His stance on the issue became a flashpoint in the first debate, when the president seemingly dodged the discussion after moderator Chris Wallace asked whether he would denounce white supremacist groups.
Trump also came under fire for telling the Proud Boys to "stand back and stand by" during the first presidential debate. The Proud Boys are a far-right organization that engages in violent confrontation.
On COVID-19
"Just the other day, they came out with a statement that 85% of the people that wear masks catch it."
Trump made another false claim about COVID-19 during Thursday night's town hall. His statement was similar to the ones he made twice earlier in the day. He said the numbers came from the U.S. Centers for Disease Control and Prevention.
The CDC study, which was released in September, did not say that 85% of people who wear masks are likely to get infected with the novel coronavirus. The survey was taken among infected persons who had violated other social distancing measures.
The president also claimed that the nation is "rounding the corner" and winning against the coronavirus. Trump also claimed that vaccines and therapies to combat the spread and improve the treatment of the virus are coming.
Guthrie challenged his remarks and pointed out the U.S. has the highest death rate worldwide.
"I have things right here that will tell you exactly the opposite," Trump fired back.
On Pre-Debate Testing
"I don't know, I don't even remember. I test all the time. I can tell you this. After the debate, like, I guess, a day or so, I think it was Thursday evening, maybe even late Thursday evening, uh, I tested positive. That's when I first found out."
Trump said he feels "good" weeks after he announced his coronavirus diagnosis. However, when Guthrie pressed the president to reveal whether he took a coronavirus test on the day of the first debate, Trump said he couldn't recall. The candidates were required to do so on the honor system, CNN reported.
When the NBC town hall host asked him again whether he adhered to the rules set by the Commission on Presidential Debates, Trump answered, "Possibly I did, possibly I didn't."
On QAnon
"I just don't know about QAnon. I do know they are very much against pedophilia, they fight it very hard."
President Trump denied any knowledge of QAnon just days after he tweeted out a claim made by the group that alleged former President Barack Obama had staged the death of al-Qaeda founder Osama Bin Laden.
While he claims not to know about the group, he "praised" them for fighting hard against pedophilia.
According to the New York Times, QAnon is a group of far-right believers of a conspiracy theory that claims the world is run by Satan-worshipping pedophiles plotting against Trump. Followers of the group believe top Democrats, including Hillary Clinton and George Soros, are members of the alleged cult.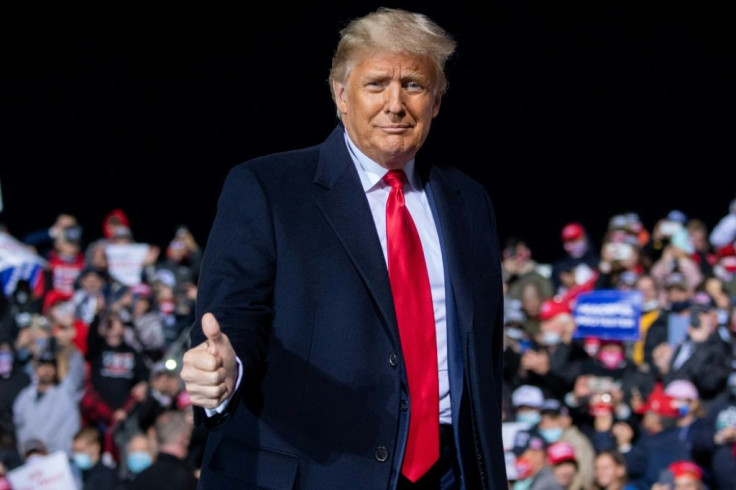 © Copyright IBTimes 2023. All rights reserved.