Don't Be Fooled: Fake Videos Of Hurricane Irma Go Viral
As Hurricane Irma forged a warpath in the Caribbean and up through Florida in recent days, internet users shared photos and videos of the destruction wrought by the storm. More than a few of those images, however, were not what they seemed.
While most everyone is familiar with the fake photo of a shark swimming down a highway that seems to proliferate nearly every time there's a storm, other phony images can be harder to spot. It seems there was no shortage of those videos being circulated during Hurricane Irma.
One of the most recognizable was perhaps a video tweeted by President Donald Trump's director of social media: Dan Scavino Jr. shared a jarring video on Twitter purporting to show Miami International Airport.
"Sharing #Hurricane Irma on social media with President @realDonaldTrump & @VP Pence hourly," Scavino wrote in the tweet. "Here is Miami International Airport. STAY SAFE!!"
The video, however, turned out to be from Mexico City during Tropical Storm Linda in August. Miami International Airport called Scavino out for the misleading tweet and Scavino promptly deleted the video.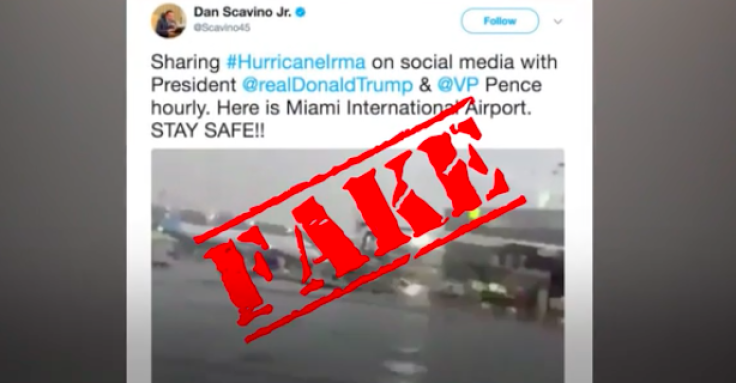 Another popular but false video circulated during Irma was that of a massive building collapsing completely purporting to be from St. Maarten during the storm. The video was shared by a number of social media users, including verified journalists. The collapsing building was not from St. Maarten, however, but from Tibet in July 2017.
Yet another video claimed to show Barbuda during Irma: footage circulated of trees ripping out of the ground and flying down the street. That particular video turned out to be from Uruguay in 2016. Another video claimed to show a funnel cloud in Florida during Hurricane Irma, but was actually footage from a tornado in Mexico from May 2017.
© Copyright IBTimes 2023. All rights reserved.