Douglas Emhoff Net Worth: Kamala Harris' Husband Generated 'Three-Quarters' Of Couple's Earnings
KEY POINTS
Kamala Harris' husband, Douglas Emhoff, has a net worth of $5 million
He has two children, Ella and Cole, from his previous marriage with ex-wife Kerstin Emhoff
Emhoff is the first-ever second gentleman in American history
Douglas Emhoff has an estimated net worth of $5 million. The husband of Vice President Kamala Harris worked as a lawyer to private companies, but this will soon change.
It is understood that there will be changes in the roles, prestige and finances of the Emhoff family after Harris was sworn in as the 49th vice president, becoming the first woman, the first Black American and the first Asian American to hold the second-highest U.S. office. And it seems that the second gentleman, a first in history, has no problem with these changes.
The New York native has always been supportive of his wife's political career, per Oprah Magazine. Due to conflict of interest, the 56-year-old dropped several companies in which he had stakes in such as Caterpillar, Dominion Resources, Monsanto and Medtronic when Harris was running for senator in California in 2016. Emhoff diversified his portfolio with ETFs and mutual funds instead, Forbes reported.
The Gould School of Law alumnus was a litigator and partner at DLA Piper Law Firm, but he announced he would leave his private law practice to focus on his new role of second gentleman days after Harris' historic election in November. Emhoff will join the faculty of Georgetown University Law Center starting this month and teach an entertainment law course.
Emhoff was previously married to Kerstin Emhoff from 1992 to 2008, and they share two children together, Ella and Cole. Meanwhile, Harris and Emhoff got married in 2014 after instantly hitting it off during their first date in 2013, according to friends.
The couple's published combined earnings since they tied the knot has totaled $11.5 million, of which "more than three-quarters" came from Emhoff, per Forbes. When Harris became a senator in 2017, the combined earnings of the two started to hike up, and they made a combined $2.3 million from pensions, annuities, capital gains and their salaries.
The vice president also makes money on the side from writing books. Harris, who penned a memoir titled "The Truths We Hold," earned an estimated $320,000 in 2018 and another $265,000 in 2019 from her books.
Meanwhile, Emhoff made $1.5 million from DLA Piper and Venable, from which he maintained a partnership stake, in 2018 and $2.8 million from the two companies, plus an LLC called Estherville Hotel Group, the following year, Forbes reported.
Emhoff and Harris own a few properties. The estimated value of their three homes is around $8 million, before mortgage, according to Celebrity Net Worth. Emhoff has a home in Los Angeles that he bought for $2.7 million, while Harris owns an apartment in San Francisco. A condo in Washington, D.C., that they bought in 2017 is now valued at $2 million.
With the increase in their wealth and popularity in recent years, Emhoff and Harris have never forgotten to give back to the community. The two donated around $214,000 to charity between 2014 and 2019, with Harris' alma mater Howard University and Emhoff's alma mater University of Southern California being among the recipients.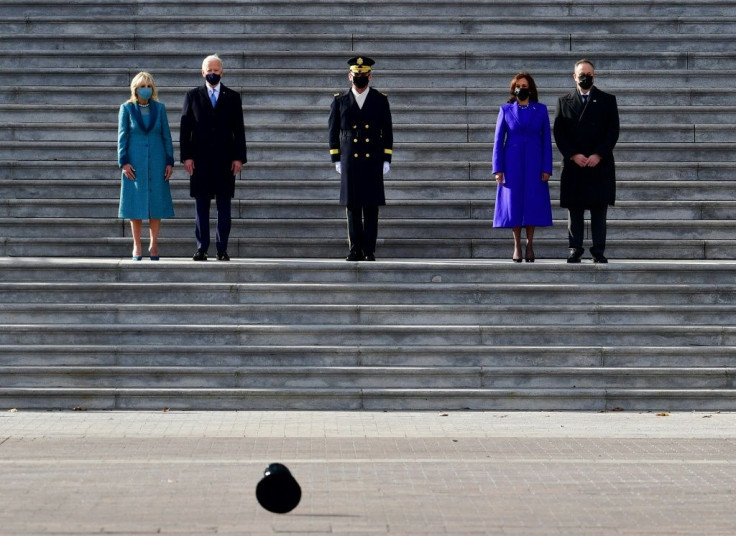 © Copyright IBTimes 2023. All rights reserved.