Duchess Camilla Wanted Prince William To Dump Kate Middleton For This Reason
Camilla, Duchess of Cornwall apparently didn't always have the most stable relationship with stepdaughter-in-law Kate Middleton. Biographer Christopher Andersen revealed in his 2016 book "Game of Crowns: Elizabeth, Camilla, Kate, and the Throne" that the two Duchesses didn't start off on the right foot.
As noted by the publication Her last September, Andersen claims in his book that when Kate began dating Camilla's stepson Prince William the former commoner was "widely admired for how easily she assimilated into the House of Windsor." In comparison, Camilla's association with the royals didn't start off well because of her long-speculated affair with Prince Charles during his marriage to Princess Diana.
READ: Princess Diana Said Camilla Ruined Her Honeymoon By Doing This For Prince Charles
It was reported that Middleton's "warmth and charm" put Camilla's "nose out of joint" due to Middleton being so loved by the public. Because of this, Camilla was allegedly not "keen" on William's relationship with Middleton at first because she was so "well-liked."
"... Camilla had wanted Kate and William to break up when they first started going out," the outlet reported of the biographer's findings, adding, "He even goes as far as to say that she asked Charles to convince William to split with her."
Despite Camilla's rumored early issues with Middleton, the outlet noted the two royals appear to be on good terms in present day.
Middleton and William went on to wed in 2011. The couple, now the Duke and Duchess of Cambridge, share three children together.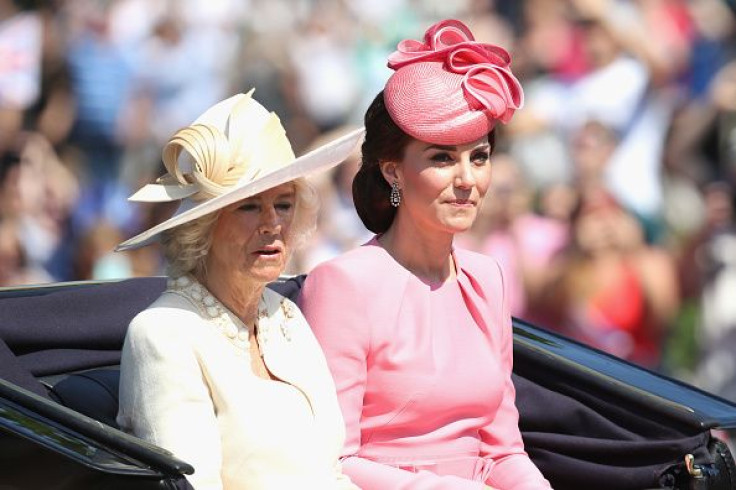 © Copyright IBTimes 2023. All rights reserved.