Earnings Preview: IBM's 1Q Report Expected To Show Big Shifts to 'Big Data'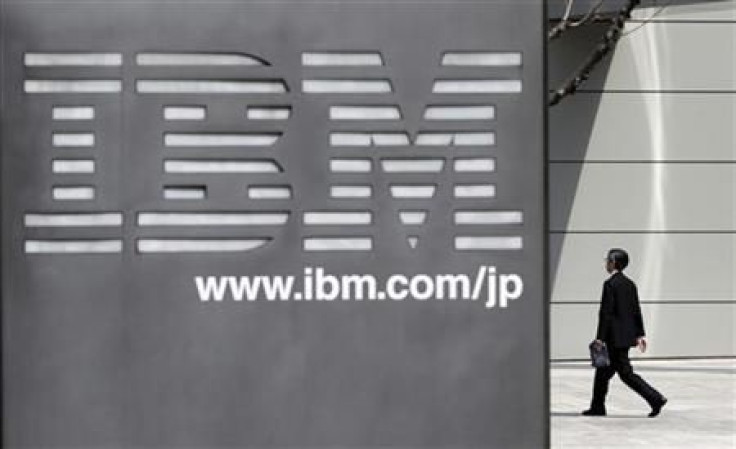 International Business Machines Corp. (NYSE: IBM), the No. 2 computer maker, has scheduled its first-quarter earnings announcement after Tuesday's market close.
The global market for computing is bullish, IBM's push into more services along its verticals remains on course and the Armonk, N.Y., company appears to have made a seamless transition to new CEO Virginia Rometty, 54, who succeeded Samuel Palmisano, 60, who remains chairman.
As well, market researcher Gartner (NYSE: IT) has reported first-quarter PC shipments rose nearly 2 percent. While IBM exited the market, enterprises will need more servers to handle the PCs. New moves toward coping with Big Data, where IBM is a major player, could be bullish as well.
IBM shares rose $1.28, or less than 1 percent, to $204 in premarket trading on Tuesday. Shares set a record high of $210.69 on April 3 and have already jumped 11.3 percent this year and 23 percent in the past 52 weeks.
Here are some key guidelines:
Look at the estimates: Analysts surveyed by FactSet generally expect IBM to report earnings rose about 6 percent to $3.07 billion, or $2.65 a share, on revenue of $24.77 billion, from $2.9 billion, or $2.41 a share, on revenue of $24.61 billion a year earlier.
IBM results usually come in around estimates because the company provides some guidance. None has been forthcoming since the fourth-quarter results came out.
Look at Europe and BRICS growth. During the euro zone crisis, technology companies were concerned they'd lose business because of austerity measures. As it turned out, they were relatively immune because technology spurred needed efficiencies.
Meanwhile, big players like IBM are focusing keenly on the so-called BRICS countries -- Brazil, Russia, India, China and South Africa - for faster-than-expected growth. For all of 2012, growth in the Americas rose 7 percent compared to BRICS growth of 16 percent.
The increase in Europe, also including IBM's Middle East and Africa units, rose 7 percent for all of 2012.
Consider the forecast. Usually, IBM CFO Mark Loughridge issues general guidance for the next quarter. IBM, although one of the top chipmakers in its own right, will be waiting for the new Romley server chips from Intel Corp. (Nasdaq: INTC), the No. 1 chipmaker. It also may have some major new contracts from big enterprises or new customers to handle.
It may also be timely for IBM to report how its Watson supercomputer has been doing providing services to health services giant WellPoint Inc. (NYSE: WLP). Newer Watson clients include Citigroup Inc. (NYSE: C) and Memorial Sloan-Kettering Cancer Center.
New product forecast. What kinds of upgrades for servers and services are ahead for the second quarter and the rest of the year? IBM has made major announcements of new moves into using smart energy for the automotive and utility sector, as well as rolling out more services using data analytics to compete better against Hewlett-Packard Co. (NYSE: HPQ), the No. 1 computer company, as well as Oracle Corp. (Nasdaq: ORCL) and SAP AG (NYSE: SAP).
How much cash is available? Last quarter, IBM reported cash and investments of nearly $12 billion, most of which is outside the U.S. Cash flow is needed for research, which exceeded $6.2 billion last year, as well as new product development.
IBM shareholders, now including Warren E. Buffett's Berkshire Hathway Inc. (NYSE: BRK/A) also like dividends and share buybacks. There's a general expectation IBM will announce a dividend hike and new buyback at its annual meeting April 24 in Charleston, S.C.
IBM shares now come with a 75 cent quarterly dividend.
UBS analyst Maynard Um expects IBM to boost the dividend to $84.75. Last month, he raised his target price to $203 from $195, although he rates the shares only neutral. At Goldman Sachs, analysts last week maintained a buy rating and a target of $223.
© Copyright IBTimes 2023. All rights reserved.