Earth Day 2016 Activities: 15 Ideas And Ways To Celebrate Mother Nature And Become An Environmental Steward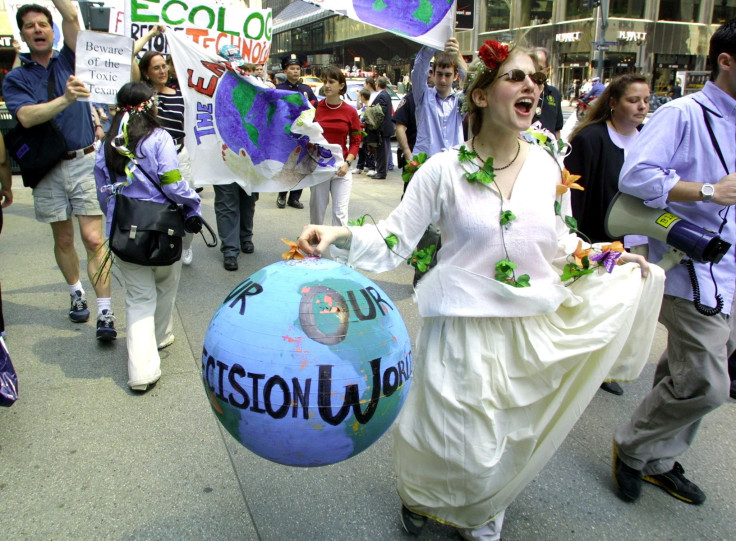 Get ready to reduce, reuse and recycle, because Earth Day is here. Being environmentally conscious isn't just for activists, and Earth Day is a great time to start thinking about ways that everyone can get involved in helping the planet.
Every April 22 people across the United States and around the world participate in activities that give back to the environment or celebrate Earth. Earth Day started in 1970, and has grown significantly in 46 years.
This explosion of environmental consciousness is not just for fun. Over the past 50 years, humans have used up more natural resources than in all of previous history, according to EcoCycle. A report from the World Economic Forum this year found that the world's oceans will contain more trash than fish by weight by 2050.
The global climate talks in Paris in December brought more attention to the world's increasingly dire situation, but many countries, as well as politicians in the U.S., remain reluctant to take steps to slow human contributions to climate change.
Still, scientists are encouraging people to clean up their act. In honor of Earth Day 2016, here are 15 ways to celebrate Mother Nature and give her some love.
Attend an Earth Day festival, event or fair. At these events around the U.S., you can talk to other environmentally inclined individuals, eat locally grown food, buy eco-friendly products and maybe listen to environment-themed music. The Earth Day website has a listing of events so you can look up fairs near you.
Encourage friends to get involved. You can start a pledge board at work or school so that everyone can commit to taking environmental actions this year. You can keep each other accountable and stay on track with your pledges.
Recycle. Learn which items you can and cannot recycle in your city, and figure out where to take recyclables. You can even decorate a recycling bin for Earth Day.
Track your online energy use. Curious about how much energy you're using while watching Netflix or scrolling through Facebook? Download an extension like Chrome's Earth Mode plug-in that tracks your usage and calculates how many trees need to be planted to offset it.
Plant a tree. This is a fun Earth Day activity and an easy and effective way to celebrate Mother Nature.
Sign a petition. There are all kinds of petitions calling on governments to take action on climate change, and public support can often help push through big changes. The Earth Day website has a petition you can sign to show support for the Paris Agreement that countries signed pledging to work together to fight climate change.
Start composting. Composting is a form of recycling, but for food. It's a biological process in which natural microorganisms break down organic materials such as leaves, grass clippings and certain food scraps. You can start with just a bucket in your backyard or someplace outside where you can take leftovers. This helps avoid waste, and you can use the compost to give nutrients to your garden.
Eat less meat. The meat industry is responsible for about 20 percent of the world's greenhouse gas emissions, and with more people eating meat every year, the industry is still growing. But this doesn't mean you have to become a vegetarian. By forgoing meat just one day a week, you can help limit the amount of it needed around the world and reduce your own carbon footprint.
Give up bottled water. Like the meat industry, bottling water consumes an enormous amount of fossil fuels. Plus, all those bottles end up in landfills and are terrible for the environment. If you switch to reusable water bottles, you'll save money and help the environment.
Make a garden. This can be a great activity for kids, a neighborhood or a group of friends. Whether you plant flowers, vegetables or fruit, this is a fun way to celebrate Earth Day and enjoy good food down the line.
Join an environmental group. Want to help the environment even after Earth Day? Take this as an opportunity to sign up for an eco-friendly society or an environmental advocacy organization in your area. If you need ideas, here's a list of groups to get you started.
Cut down on junk mail. More than 100 million trees are cut down each year to produce junk mail, according to the Earth Day organization. There are several organizations that will take your name off widely distributed consumer mailing lists, or you can call businesses and catalogues that send you mail you do not need.
Buy local. Try buying local produce if you can. Produce typically loses one-third of its original nutritional value after three days of being picked, so you'll be eating healthier and reducing the carbon emissions needed to transport produce from the farm to your plate.
Organize a community cleanup. This is as simple as getting friends together to clean up a park, school playground or sidewalk.
Learn about the Earth. Take the time to learn more about what's going on with the Earth and how climate change is affecting our planet. Read articles, pick up a book or listen to a science podcast. This can be a great way to add educational value to your Earth Day celebration.
© Copyright IBTimes 2022. All rights reserved.
FOLLOW MORE IBT NEWS ON THE BELOW CHANNELS