Election 2016: Bernie Sanders Keeps Lead Over Hillary Clinton In New Hampshire Poll Ahead Of Primary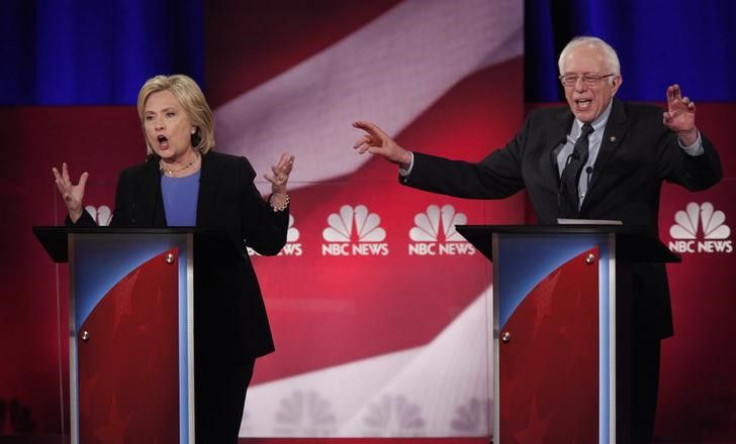 UPDATED: 4:58 EST —​ Sen. Bernie Sanders' lead in New Hampshire over Democratic rival and former Secretary of State Hillary Clinton narrowed Sunday, a Monmouth University poll indicated. The Vermont senator polled 52 percent to Clinton's 42 percent in the survey of 508 voters Feb. 4-6. The poll had a margin of error of 4.4 percentage points.
On the Republican side, Donald Trump was leading with 30 percent support to 14 percent for Ohio Gov. John Kasich, 13 percent for Sen. Marco Rubio of Florida and former Florida Gov. Jeb Bush and 12 percent for Sen. Ted Cruz of Texas.
Original Story:
Vermont Sen. Bernie Sanders retained a strong lead in New Hampshire over former Secretary of State Hillary Clinton in a CNN/WMUR poll updated Sunday, with the primary two days away. Clinton eked out a win of less than 1 percent over Sanders in the Iowa caucuses last week, as the senator made gains in both key early states.
Sanders was set to beat Clinton in New Hampshire by a ratio of 2:1 according to a CNN/WMUR poll conducted by the University of New Hampshire and released Friday that put support for Sanders at 61 percent to Clinton's 30 percent. Sanders' lead narrowed slightly to 58 percent as Clinton rose to 35 percent among Democratic voters, according to an update of the same poll published Sunday.
While Sanders has run as an independent in Vermont where he identifies himself as a democratic socialist, he is running for the Democratic Party's presidential nomination.
The veteran senator has won over voters, especially the young, with his promises to get tough on Wall Street, reform campaign finance and restore the middle class. Sanders has claimed the title of "progressive" for himself while portraying Clinton as a member of the elite. Clinton, meanwhile, has touted her extensive experience as both secretary of state and as a former New York senator, taking a more moderate approach while still vowing to crack down on Wall Street greed while supporting middle class employees and young voters.
With its motto "Live Free or Die," New Hampshire is home to many independents who are allowed to vote in the primary of either party. With a close race on the Republican side as well, independents must choose which contest to vote in. Around 44 percent of all voters in the state are independent or undeclared, NPR reported.
Despite Sanders' strong lead in New Hampshire, polling across the nation still puts him nearly 15 percentage points behind the former secretary of state, according to Real Clear Politics, which takes the average of available polling data.
© Copyright IBTimes 2022. All rights reserved.
FOLLOW MORE IBT NEWS ON THE BELOW CHANNELS