Election 2016: Bernie Sanders Won't Demand Hillary Clinton Release Transcripts From Paid Speeches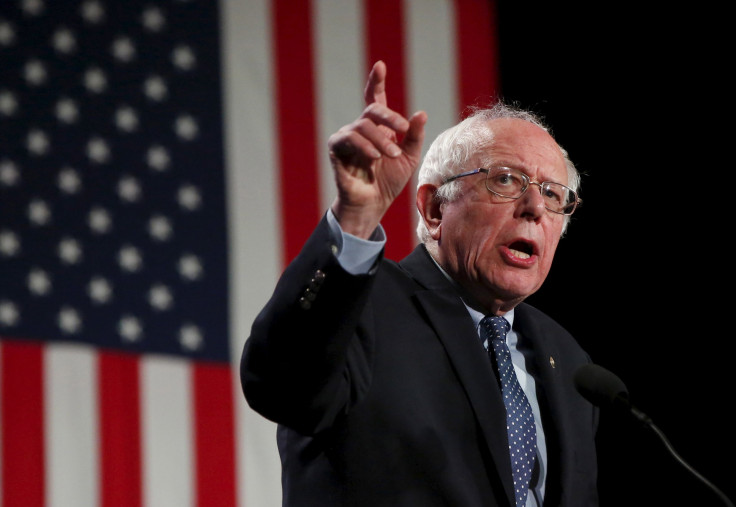 Vermont Sen. Bernie Sanders said Sunday it's up to his Democratic presidential rival Hillary Clinton to decide whether to release transcripts from her paid speeches to Wall Street banks.
"I think the decision as to whether or not to release, it is her decision," Sanders said on CNN's "State of the Union." In an interview with NBC's "Meet the Press," Sanders later said it would "be a positive thing for the American people to know what was said behind closed doors to Wall Street, but ultimately that is her decision."
With the crucial New Hampshire primary in two days, Clinton is facing increased pressure to explain the six-figure paydays she received from financial firms and major corporations for private speaking engagements, specifically the $675,000 she was paid for three speeches to Wall Street behemoth Goldman Sachs after completing her tenure as secretary of state. Clinton and her husband, former President Bill Clinton, have been paid $125 million in speaking fees since they left the White House in 2001.
When the Intercept first asked Hillary Clinton last month if she would make transcripts from the Goldman Sachs events public, she laughed and turned to speak with supporters. She received a similar question from a voter during Thursday night's Democratic debate on MSNBC.
"I will look into it," Clinton responded. "I don't know the status, but I will certainly look into it."
Clinton's campaign Friday sought to downplay those comments. "I don't think voters are interested in the transcripts of her speeches," said Clinton strategist Joel Benenson, whose consulting firm counts Wall Street banks JPMorgan Chase and Bank of America as clients.
Sanders' statements Sunday represent a slight departure from those offered by senior campaign strategist Tad Devine after Thursday's debate. Devine told MSNBC Clinton should release the transcripts: "My advice would be, don't look into it too long, because it's not going to go away until they come out, OK?" Devine later said Sanders' campaign wouldn't press the issue, but that he expected the media would.
While Sanders wouldn't demand that Clinton release transcripts of her speeches, he did continue to criticize Goldman Sachs — echoing comments made by Massachusetts Sen. Elizabeth Warren last week in an interview with International Business Times.
After highlighting Goldman Sachs' recent $5 billion settlement with the U.S. Department of Justice over its sales of mortgage backed securities before the financial crisis, Sanders said: "A kid gets caught with some marijuana, gets a police record. Fraudulent activity on Wall Street destroyed the economy, no police record for any executive."
© Copyright IBTimes 2023. All rights reserved.
FOLLOW MORE IBT NEWS ON THE BELOW CHANNELS