New Hampshire Debate: Hillary Clinton Will 'Look Into' Releasing Transcripts Of Her Wall Street Speeches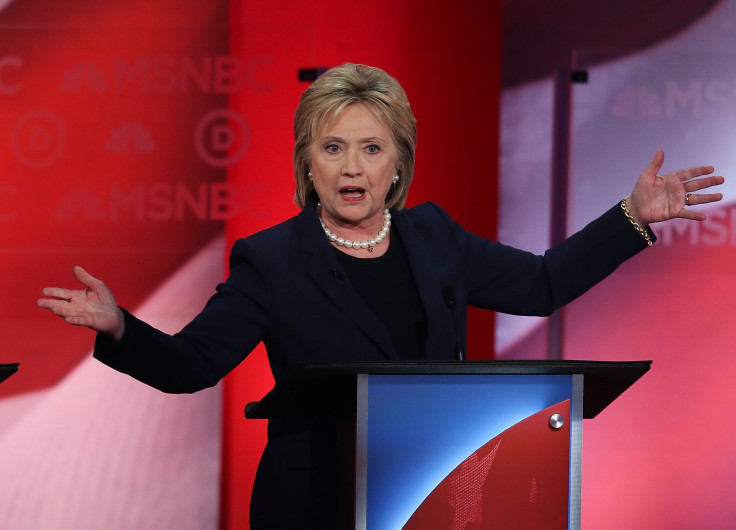 Hillary Clinton's relationship with Wall Street is dogging her campaign. What did Clinton say in those speeches for which Wall Street banks paid her big money? She didn't answer when she was asked recently in New Hampshire if she would release transcripts from her paid speeches to Goldman Sachs. Faced with the same question at Thursday night's Democratic presidential debate, Clinton said she would "look into it."
MSNBC moderator Chuck Todd relayed an audience-submitted question about whether "the voting public has a right to know what was said" when Clinton spoke at Goldman Sachs' events. Todd said the cable news channel knows "through reporting that there were transcription services for all of those paid speeches," and asked if she would release transcripts from all of her speaking engagements.
"I will look into it," Clinton said. "I don't know the status, but I will certainly look into it."
Throughout the primary race, Clinton has been dogged by questions about the speaking fees she collected after stepping down as secretary of state. Clinton frequently earned six-figure payments for private speeches to major corporations and financial firms, including $675,000 for three events with Goldman Sachs.
When the Intercept's Lee Fang asked Clinton two weeks ago in New Hampshire whether she would make transcripts from those events public, she laughed and turned to greet her supporters.
During Thursday's debate, Clinton suggested her speeches to businesses focused on international issues and her experiences serving in the Obama administration.
"I spoke to a lot of different groups with a lot of different constituents, a lot of different kinds of members, about issues that had to do with world affairs," she said. "I probably described more times than I can remember how stressful it was advising the president about going after [Osama] bin Laden."
The previous night, at a CNN town hall, moderator Anderson Cooper asked Clinton if she had "to be paid $675,000" for speaking to Goldman Sachs. She responded: "Well, I don't know. That's what they offered."
© Copyright IBTimes 2023. All rights reserved.
FOLLOW MORE IBT NEWS ON THE BELOW CHANNELS