Election 2016: Carly Fiorina Suspends Campaign Following New Hampshire Primary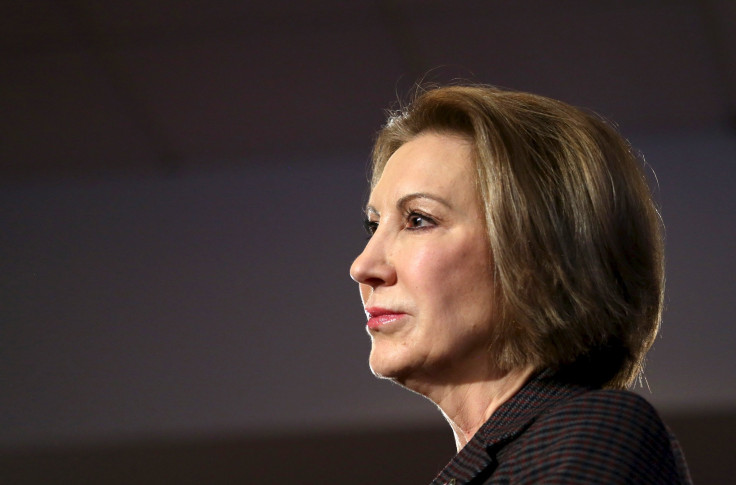 Former Hewlett-Packard CEO Carly Fiorina announced Wednesday that she has suspended her 2016 presidential campaign in a message on her official Facebook page. The news comes one day after her lackluster showing in the New Hampshire Republican primary earned just 4.1 percent of the vote and no delegates. Shortly after Fiorina's announcement, New Jersey Gov. Chris Christie followed suit and ended his own presidential bid.
Fiorina propelled her campaign into the top tier of the large field of GOP candidates after her performance in the undercard segment of the first Republican presidential debate, in August. For the following debates this election season, she was able to snag invites to the main stage thanks to decent poll numbers, until lower numbers last week kept her out of the ABC debate the Saturday before the New Hampshire primary.
"This campaign was always about citizenship — taking back our country from a political class that only serves the big, the powerful, the wealthy, and the well-connected," Fiorina said in the message. "Election after election, the same empty promises are made and the same poll-tested stump speeches are given, but nothing changes. I've said throughout this campaign that I will not sit down and be quiet. I'm not going to start now. While I suspend my candidacy today, I will continue to travel this country and fight for those Americans who refuse to settle for the way things are and a status quo that no longer works for them."
Fiorina was the only female candidate in the running for the Republican nomination. In announcing the end of her run, she appeared to take a dig at Democratic candidate Hillary Clinton's approach to galvanizing young female voters. The Clinton campaign drew fire last week for a rally where Madeleine Albright, the first female secretary of state, addressed the crowd, saying, "There's a special place in hell for women who don't help each other!"
"To young girls and women across the country, I say: Do not let others define you," Fiorina wrote. "Do not listen to anyone who says you have to vote a certain way or for a certain candidate because you're a woman. That is not feminism. Feminism doesn't shut down conversations or threaten women."
© Copyright IBTimes 2022. All rights reserved.
FOLLOW MORE IBT NEWS ON THE BELOW CHANNELS