Election 2020 Poll: 40% Believe Trump Will Beat Biden And Win In November
KEY POINTS
Americans are still patiotic but can't find much to cheer about when it comes to the USA
A new Yahoo News/ You Gov poll revealed 6 in 10 say the economy is worse today
As for Trump, 40% believe he will win in November
The latest Yahoo News/YouGov poll is uniformly bad news for President Donald Trump ahead of the Fourth of July weekend. It paints a gloomy picture of a pessimistic America beset by problems the president seems unable to control. But it does have one fascinating snippet – 40% of poll respondents think Trump will win in November.
The pollfound 65% of Americans saying the United States is headed down the wrong track, while 22% said the country is generally headed in the right direction. Sixty-five percent said the COVID-19 pandemic has gotten worse under Trump's watch. It shows 81% of Democrats holding this view, as do 38% of Republicans and 67% of Independents. Only 16% said it's gotten better.
The poll also revealed one interesting and good news statistic for Trump. Asked "Which candidate do you think is most likely to win the Presidential election in November," 40% said Trump and 39% said Joe Biden. Twenty-two percent said each candidate was equally likely to beat the other.
Interestingly, the poll shows 45% of registered voters saying they'll vote for Biden in November. President Donald Trump was the choice of 40% of respondents.
The Yahoo News/YouGov poll hasn't yet explained the significance of this finding in light of their data showing Biden getting more voters. The question, however, has more to do with perception rather than choice.
The poll titled Yahoo! News Patriotism and Politics had 1,525 adult respondents and was conducted from June 29 to July 1, mainly to gauge patriotic sentiments among Americans. Among its more salient findings:
75% of respondents believe things in the U.S. are out of control; 14% felt differently, while 11% weren't sure
58% said crime is getting worse; 10% said it's getting better, while 32% said there's no change
61% said the economy has gotten worse under Trump compared to 21% that said otherwise and 18% believing there's been no change
61% describe themselves as patriotic against 20% that don't
60% said America's standing in the world has gotten worse under Trump compared to a contrary opinion held by 15%. The gotten worse viewpoint is held by 76% of Democrats, 35% of Republicans and 65% of Independents
64% said race relations have gotten worse, 12% don't believe so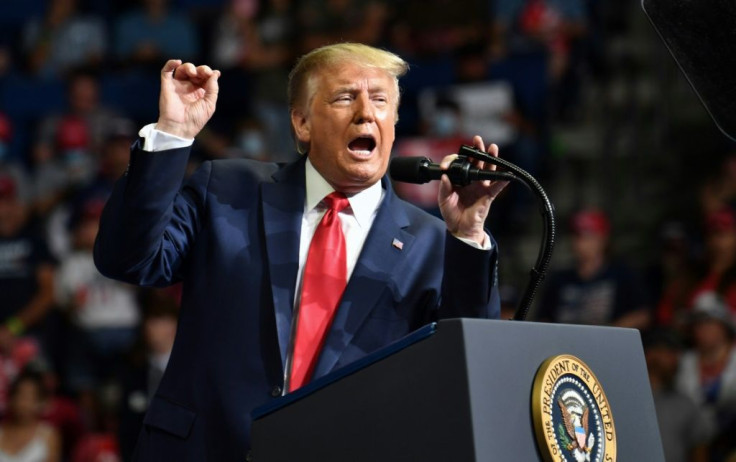 © Copyright IBTimes 2023. All rights reserved.
FOLLOW MORE IBT NEWS ON THE BELOW CHANNELS