'Elementary' Season 5, Episode 12 Spoilers: Joan Helps Marcus Keep His Love Interest's Career Intact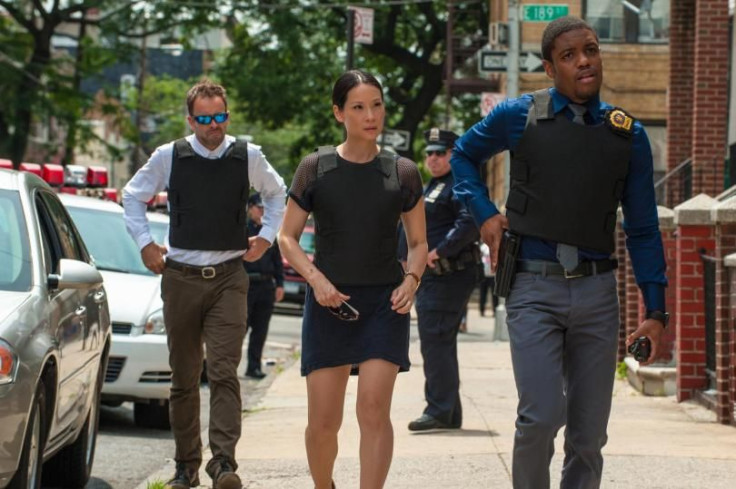 Chantal Milner's (Chasten Harmon) career is on the brink of a major downfall in Season 5, episode 12 of "Elementary."
According to the synopsis for the episode, titled "Crowned Clown, Downtown Brown," Marcus (Jon Michael Hill) seeks Joan's (Lucy Liu) help when he's targeted by Chantal's ex-husband in attempt to sabotage her career at the district attorney's office.
Chantal was introduced in Season 5, episode 6, titled "Ill Tidings." In the episode, Sherlock (Jonny Lee Miller) noticed that Marcus has a crush on Chantal and told him that he needs a different color shirt to flirt with her. Marcus admitted to the London native that he likes Chantel because she's great at what she does. When Sherlock pointed out that Chantel is wearing a wedding ring, Marcus said that she's in the process of finalizing her divorce.
Marcus' love life has always been complicated. In Season 1 of the CBS series, Marcus was shot at while driving home from a case one night. He ended up crashing into a construction site. The man suspected to be the shooter was found killed, with bootprints of Marcus' shoes found on the site. Sherlock suspected Marcus to be the killer. But when he visited Marcus in his apartment and used his bathroom, he found a recently fired gun in his vent and came to a conclusion that he was being framed. Sherlock eventually found the real killer, Marcus' ex-girlfriend Paula Reyes (Paula Garcés).
Paula sought revenge on Bell after she learned that her then-lover was the one who informed Internal Affairs about her corrupt superior, who was her top supporter regarding a promotion.
Marcus' budding romance with Chantel isn't the only aspect of his personal life that's going to be explored further in the current installment of "Elementary." In an interview with Entertainment Weekly in September, series creator Rob Doherty revealed that Marcus is "going to take a pretty keen interest in Sherlock and Joan's endorsement of Shinwell (Nelsan Ellis)" — which shouldn't come as a surprise as the NYPD detective has an ex-convict brother.
"We haven't explored that in awhile, so we don't know how well that's gone or how poorly it's gone," Doherty said of Marcus'relationship with his ex-con sibling Andre Bell (Malcolm Goodwin). "But [Marcus] has experience with this kind of person and this kind of quest. He will have some pretty strong opinions about how Sherlock and Joan are approaching it."
"Elementary" Season 5, episode 12 airs on Sunday, Jan. 15, 2017 at 10 p.m. EST on CBS.
© Copyright IBTimes 2023. All rights reserved.