Elizabeth Warren Responds To Trump's Million Dollar Offer To Take 'DNA Test'
Sen. Elizabeth Warren (D-MA) took to Twitter to respond to President Donald Trump mocking her claims of having a native American heritage at the campaign rally in Great Falls, Montana, Thursday, even going so far as offering her a million dollars if she took a DNA test.
"Hey, @realDonaldTrump: While you obsess over my genes, your Admin is conducting DNA tests on little kids because you ripped them from their mamas & you are too incompetent to reunite them in time to meet a court order. Maybe you should focus on fixing the lives you're destroying," Warren tweeted.
While Trump's comment originally began as an attack on the media — as most mainstream outlets have infamously been branded "fake news" by him — it quickly transformed into an obvious jibe at Warren, who is rumored to be his potential opponent in the 2020 election cycle.
The president said reporters wouldn't want to cover other prospective presidential candidates in 2020 besides him and as an example, he mentioned Warren, although he referred to her by the nickname he had given her in the past.
"Let's say I'm debating Pocahontas, right? I promise you I'll do this, you know those little kits they sell on television for $2: 'Learn your heritage,'" Trump told the crowd, Vox reported. He went on to add that if Warren brought up her Native American heritage during the debate, he would respond by pulling out one of "those little kits."
"We will take that little kit and say — but we have to do it gently, because we're in the #MeToo generation, so have to be very gentle," Trump added. "And we will very gently take that kit and we will slowly toss it — hoping it doesn't hit her and injure her arm — even though it only weighs probably 2 ounces. We will say, 'I will give you a million dollars to your favorite charity, paid for by Trump, if you take the test and it shows you're an Indian.'"
Despite clarifying multiple times in the past her mother is part Cherokee, but she was not an enrolled member of any of the three federally recognized Cherokee tribes — the Cherokee Nation, the Eastern Band of Cherokee Indians, or the United Keetoowah Band of Cherokees — Trump has incessantly mocked Warren's ancestry since his 2016 campaigning days.
After staying silent on the issue, Warren delivered a speech to the National Congress of American Indians addressing the controversy, on Feb. 14:
"I've noticed that every time my name comes up, President Trump likes to talk about Pocahontas… Our country's disrespect of native people didn't start with President Trump," Warren said in the powerful speech. "It started long before President Washington ever took office."
"But now we have a president who can't make it through a ceremony honoring Native American war heroes without reducing native history, native culture, native people to the butt of a joke. The joke, I guess, is supposed to be on me," she added.
In the process of criticizing Warren's Native American origin claims, in the recent rally, Trump also took a dig at the #MeToo social media movement encouraging women who have gone through sexual harassment to speak up against their wrongdoers.
Trump has meticulously avoided speaking about the movement due to the array of accusations of sexual misconduct brought against him by multiple women as well as dismissing similar claims against men who have worked for him, including his former staff secretary, Rob Porter, who allegedly physically assaulted his two ex-wives.
Staying true to his nature, Trump refused to apologize for his racist remarks. "I want to apologize. I'll use tonight — Pocahontas, I apologize to you," Trump said. "To you, I apologize. To the fake Pocahontas, I won't apologize."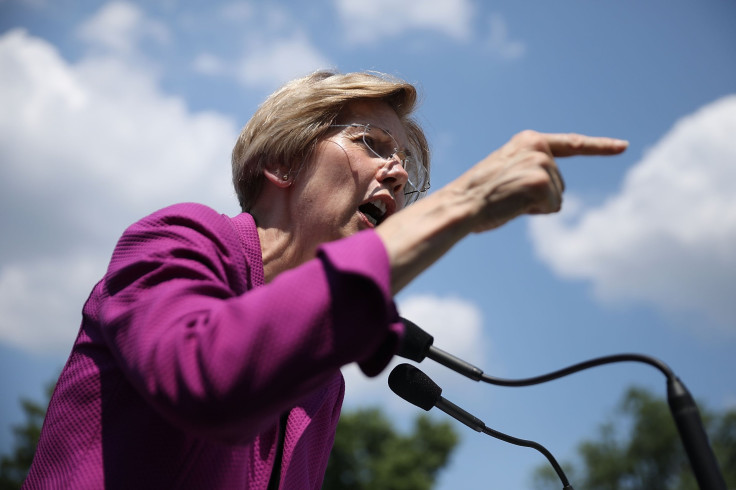 © Copyright IBTimes 2023. All rights reserved.