'Empire' Season 1 Spoilers: In Episode 8 'The Lyon's Roar,' Cookie Tells Lucious 'Nothing Good Can Come From Loving You' [RECAP]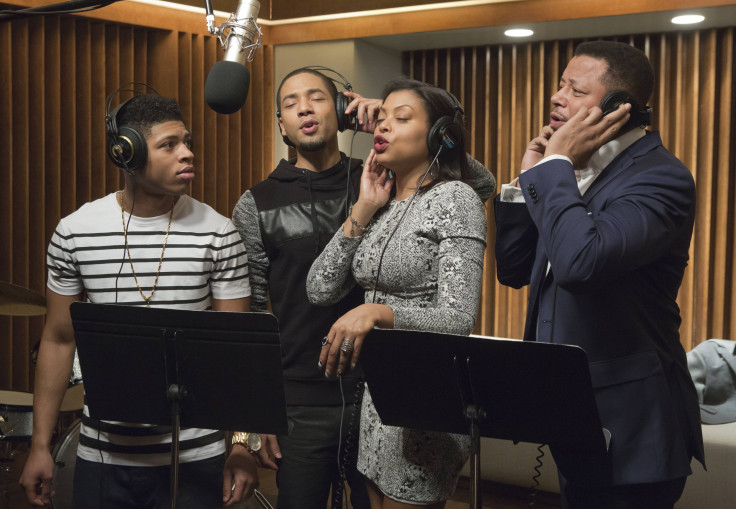 "Empire" show creators Lee Daniels and Danny Strong have laid the groundwork for an interesting and caustic cast of characters. Now, they're standing back and letting the sparks fly between rifts and relationships as the claws come out each week. Picking up the drama from episode 7, "Our Dancing Days," "The Lyon's Roar" is another tense week of egos, revelations and revenge.
We're first taken to Cookie's (Taraji P. Henson) last moments with her family before her sentencing in a flashback. The emotional goodbyes and kisses (and off-key singing from Terrence Howard's character, Lucious) pop right back to where we left off last episode. Cookie and Lucious are pulling themselves together after a passionate night when she draws the line for their physical reunion: Lucious would first need to get rid of his fiancée Anika Calhoun (Grace Gealey). Then she proposes the idea of a Lyon family record, which entices Lucious to stay and collaborate with her and their sons, Jamal and Hakeem.
Cookie is constantly proving herself to be the best thing about "Empire" with her lively delivery of lines like, "Of you want Cookie's Nookie, ditch the bitch."
Lines which quickly went viral on social media last night.
Jamal (Jussie Smollett) and Hakeem (Bryshere Y. Gray) make a truce to band together for their old man, but elder son Andre (Trai Byers) has embraced the darker side of his character, shying away from his family and prostituting his wife for a power play. Anika's no shrinking flower on her own. She confronts Lucious about both his fraud health bill signed by her father and his infidelity. Anika basically backmails Lucious into a corner to accept her demands: to marry her. Now.
Hakeem threw down with Cookie pointing out her favoritism toward Jamal in the recording studio. Lucious uses his illness for good in a "Dr. Phil moment" and gets the two to reconcile. But the victory is short-lived, as Hakeem's lover and fashion designer Camilla Marks (Naomi Cambell) is pulling her own strings against Cookie's attempt at reconciliation with Hakeem. "Can you play the tambourine, Yoko?" shoots back Cookie. We all know who won this round.
"Lions are never afraid to roar," said Jamal to his daughter in a touching moment, showing his ease at settling into his surprise fatherhood role. He finally musters up the strength to stand up to Lucious' homophobia and come out at his father's fashion party. After an overreach of power, it's Andre back in the hot seat as Lucious' cards shuffle again. The two end up fighting over Andre's white wife. "They will accept your money, but they will never care about your black ass," yells Lucious to a clearly hurt Andre. To Lucious, his son's marriage a is a form of treason because Andre's wife Rhonda (Kaitlin Doubleday) is not invested in family. So far, Lucious has yet to approve of any of his son's partners.
"The legacy album is dead, I'm done," Lucious says, exasperated at the end of episode 8. We flash back to a broken Cookie sitting back in her jail bunk, holding onto the idea of family and the music she fought to keep alive. We've now seen what drives Cookie, and we've watched her never lose her hope in her family and in her Empire.
"Empire" airs Wednesdays at 9 p.m. EST on FOX.
© Copyright IBTimes 2022. All rights reserved.
FOLLOW MORE IBT NEWS ON THE BELOW CHANNELS