Eric Salvatierra Killed By Caltrain: How Did PayPal Executive Die?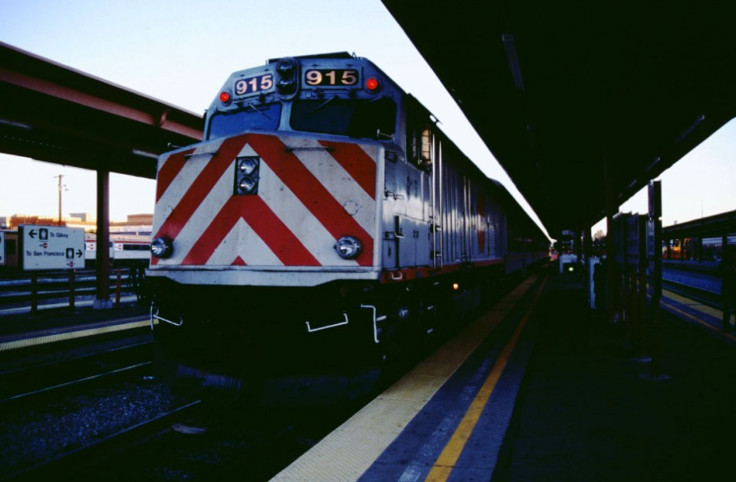 The man killed on the Caltrain tracks in Menlo Park, Calif., has been identified as 39-year-old PayPal executive Eric Salvatierra of Palo Alto.
Salvatierra was struck by a Caltrain train around 9:30 a.m. on Friday on the northbound tracks at Ravenswood Avenue, according to Caltrain spokeswoman Tasha Bartholomew.
Eric Salvatierra, a married father of three, leaves behind a devastated family and disbelieving co-workers.
As investigators at Caltrain and the local coroner's office continue to look into his death, however, Caltrain's fourth fatality of 2012, one crucial question remains unanswered: How did Eric Salvatierra die?
'An incredible, unexpected loss.'
For me and to all of us, this is just an incredible, unexpected loss, his uncle Oscar Salvatierra, a Stanford professor of surgery and pediatrics, told the San Jose Mercury News.
Eric Salvatierra grew up in Phoenix, Ariz., before studying at his uncle's alma mater, Georgetown. He graduated summa cum laude and worked at Goldman Sachs before being recruited to Silicon Valley.
There, the ambitious businessman worked in finance for eBay and Skype before heading over to PayPal.
According to Salvatierra's LinkedIn profile, he served as vice president of customer advocacy and operational excellence there, and his uncle mentioned nothing about any problems at work.
At home, meanwhile, Oscar Salvatierra described his nephew as an amazing husband, a dedicated father and as a man committed to the welfare and happiness of others.
He was really involved with his family, Salvatierra told the Mercury News. He was truly a great humanitarian--the way he regarded his fellow man with great respect and compassion.
Eric Salvatierra's wife often volunteers with charities, and both he and his spouse were active at their local Unitarian Universalist Church.
Caltrain Fatalities On Rise
When it comes to how Eric Salvatierra, died, however, the details become murkier.
It is always regrettable when a life is lost, Caltrain said in a statement on Friday afternoon. Caltrain reminds everyone to be safe around train tracks.
Caltrain would also like to thank our passengers for their patience while we deal with these sad incidents, the company told ABC News.
With so little to go on to explain his nephew's death, however, questions continue to linger.
All I know is, he had his bike, Oscar Salvatierra told Mercury News. Neither Caltrain nor the San Mateo County Coroner's office could provide any more information at this time, though the investigation is ongoing.
Salvatierra's death is the fourth fatality for Caltrain so far in 2012. In an effort to reduce the number of deaths on its train tracks, Caltrain made a point of installing no trespassing signs along its tracks in 1996. In 2001, signs with a crisis hotline number were posted every 500 feet along the entire 55-mile length of the railroad.
Despite these precautions, however, the number of deaths on Caltrain tracks has continued to rise. From 2003 to 2007, fatalities averaged 11 deaths a year. From 2008 to 2011, that number had grown to 15-16 per year.
'I was proud of how he lived life.'
Although there is nothing in Salvatierra's life to suggest that he was suicidal, MSNBC asserts that many of the cases involving people killed on the train tracks turn out to be suicides.
The facts tend to back the publciation up. In 2011, 16 people were killed on Caltrain tracks. 13 of them were suicides.In 2009, 19 fatalities were recorded, the highest number since 1995. At least five of the victims were confirmed to have taken their own lives.
Oscar Salvatierra, however, would find the idea of his nephew Eric committing suicide very hard to believe. He is convinced that his nephew died in an unfortunate accident.
He was an individual who you would never see visibly upset, he insisted. I was proud of how he lived life.
PayPal has yet to issue a statement following news of the executive's death.
Eric Salvatierra leaves behind three daughters, all of them under the age of 10. Funeral services have not yet been set, but the PayPal executive's family members are reportedly flying to Phoenix for the service.
Article Correction: An independent study conducted by the Mineta Transportation Institute in 2010 stated: It is difficult to conclude whether there is a clear increasing or decreasing trend for unintended deaths or suicides. It is therefore premature to say that Caltrain deaths are definitively on the rise in the late 2000s.
© Copyright IBTimes 2022. All rights reserved.
FOLLOW MORE IBT NEWS ON THE BELOW CHANNELS