Eric Trump Called Out For Saying People Hug Him And Cry Because They Miss Donald Trump
Eric Trump's interview with Fox News host Sean Hannity about his father Donald Trump's potential run in the 2024 presidential election didn't go well with many outside of conservative circles. The anecdotal and unverifiable comments from Donald Trump's son drew ridicule on social media.
In his appearance on Fox News, Eric Trump claimed people have approached him to share how much they miss his father being in office.
"More people have come up to me in the last week and given me hugs saying 'we miss him so much.' I mean literally Sean sometimes Sean, with tears in their eyes – 'we miss the man so much,'" he told Hannity, who has loyally supported the former president.
Donald Trump lost the popular vote in the 2016 and 2020 presidential elections and failed to reach 50% approval ratings in four years in office. However, he remains very popular amongst Republicans.
"No matter what you say about him, he loves this country and he's willing to fight for this country," Eric Trump said of his father. He added that he thinks "there's a real good chance" Donald Trump will run for president in 2024.
Following the comments, many on social media mocked Eric Trump's suggestion that he hugs strangers. "As if a Trump would let a common person approach them," one Twitter user posted.
Another post reflected on Donald Trump's past comments about COVID-19. "So glad the Trump's all got their COVID shots - all that hugging from people who don't believe in COVID - seems they were told this for over a year now by Trump + family ''o Mask, No Shots' how about some bleach?" the post read.
Comedians also weighed in on Eric Trump's comments, which came before news broke that Donald Trump may face a criminal investigation.
"It's nice to see Eric has inherited his father's penchant for inventing anonymous adults who cry with gratitude," joked late-night comedian Seth Meyers on Wednesday.
On Tuesday, New York Attorney General Letitia James declared that the investigation into the Trump Organization would be considered a criminal matter.
"We have informed the Trump Organization that our investigation into the company is no longer purely civil in nature," Fabien Levy, a spokesman for James, said in a statement issued late Tuesday.
"We are now actively investigating the Trump Organization in a criminal capacity, along with the Manhattan DA. We have no additional comment at this time."
Eric Trump was questioned under oath in October 2020 as part of a civil investigation by the New York attorney general's office into whether the family's real estate company committed fraud.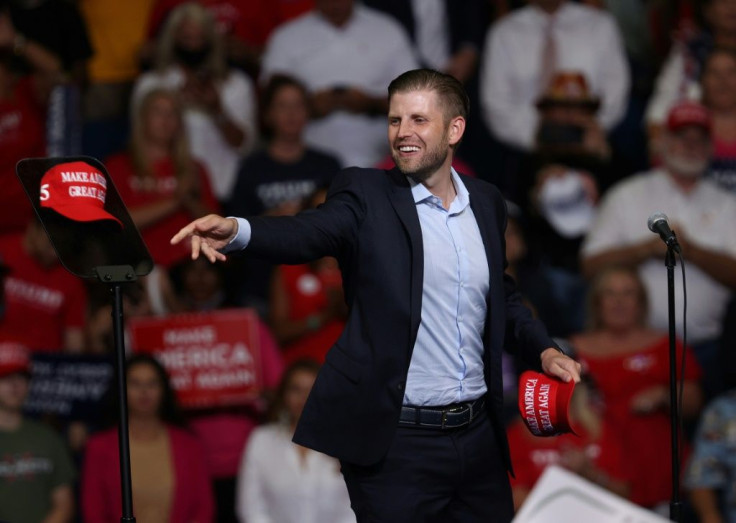 © Copyright IBTimes 2023. All rights reserved.